| | |
| --- | --- |
| Products | |
| | |
| --- | --- |
| | 1-Cent, Large, 1858-1901 (Victoria) |
| | 1-Cent, Large, 1902-10 (Edward VII) |
| | 1-Cent, Large, 1911-20 (George V) |
| | 1-Cent, Small, 1920-36 (George V) |
| | 1-Cent, 1937-52 (George VI) |
| | 1-Cent, 1953-date (Elizabeth II) |
| | Special Offerings of 1-Cent Coins |
| | 5-Cents, 1858-1901 (Victoria) |
| | 5-Cents, 1902-10 (Edward VII) |
| | 5-Cents, Silver, 1911-21 (George V) |
| | 5-Cents, Nickel, 1922-36 (George V) |
| | 5-Cents, 1937-52 (George VI) |
| | 5-Cents, 1953-date (Elizabeth II) |
| | Special Offerings of 5-Cent Coins |
| | 10-Cents, 1858-1901 (Victoria) |
| | 10-Cents, 1902-10 (Edward VII) |
| | 10-Cents, 1911-36 (George V) |
| | 10-Cents, 1937-52 (George VI) |
| | 10-Cents, 1953-date (Elizabeth II) |
| | Special Offerings of 10-Cent Coins |
| | 20-Cents, 1858 (Victoria) |
| | 25-Cents, 1870-1901 (Victoria) |
| | 25-Cents, 1902-10 (Edward VII) |
| | 25-Cents, 1911-36 (George V) |
| | 25-Cents, 1937-52 (George VI) |
| | 25-Cents, 1953-date (Elizabeth II) |
| | Special Offerings of 25-Cent Coins |
| | 50-Cents, 1870-1901 (Victoria) |
| | 50-Cents, 1902-10 (Edward VII) |
| | 50-Cents, 1911-36 (George V) |
| | 50-Cents, 1937-52 (George VI) |
| | 50-Cents, 1953-date (Elizabeth II) |
| | Special Offerings of 50-Cent Coins |
| | $1, Silver, 1935-36 (George V) |
| | $1, Silver, 1937-52 (George VI) |
| | $1, Silver, 1953-67 (Elizabeth II) |
| | Special Offerings of Silver $1 Coins |
| | $1, Nickel, 1968-87 (Elizabeth II) |
| | $1, Loon, 1987-date (Elizabeth II) |
| | $2, Bi-metalic, 1996-date (Elizabeth II) |
| | Canadian Gold Sovereigns, 1908-19 |
| | $5, Gold, 1912-14 (George V) |
| | $10, Gold, 1912-14 (George V) |
| | ROLLS, 1-Cent, 1911-36 |
| | ROLLS, 5-Cent, 1911-36 |
| | ROLLS, Canadian Coinage, 1937-date |
Canadian Gold Sovereigns, 1908-19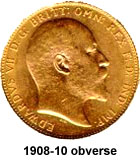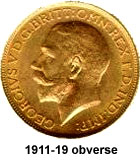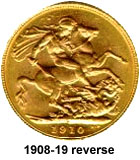 Denomination: One Pound, or $4.40 (not shown on the coin)
Composition: 22kt Gold, alloyed with copper.
Issued: From 1908 to 1919.


Beginning in 1908 the sovereign was struck in Canada. Not because it was a useful or required denomination in commerce, but rather because the new Ottawa branch of the Royal Mint with its ties to England was obligated to mint sovereigns on request. The mintages are very small, and usually were produced only by special order to facilitate exports of funds by companies settling foreign accounts. The 1908 coin was struck only in specimen quality for inclusion in the specimen sets of 1908.

All Canadian sovereigns have a small "C" mintmark on them above the date denoting the country of production. In other technical respects, the sovereigns are identical in size and weight to British sovereigns. The rarest date, 1916, was thought to have had most of its mintage melted, although this is by no means a substantiated fact.

1908-C sovereigns only exist as specimens. Grade lower than -60 are impaired specimens. Where a 1908-C sovereign appears under an "MS" column, read as "SP".

The small letter "C" appearing above the date refers the the mintmark "Canada" of the Ottawa Mint. Unlisted sovereigns can be quoted on based on availability if you contact us directly.

Coins with significant gold content will be adjusted to the current market equivalent. For current buying and selling prices, ordering and selling instructions, a Frequently Asked Question List, and useful forms, please visit our comprehensive Bullion Coins and Bars website, updated M-F (www.bullioncoinsandbars.com).

Please note that this catalogue is used as both an ordering tool and the only online reference list of its kind. We do not always have every item available in every grade, nor do we have every older coin or set. However, we tend to have many items available in many grades. Rare or hard to obtain items may not be available. Anything not currently available can be located for you if you request by sending an e-mail, fax, or by calling.


| | | | | | | |
| --- | --- | --- | --- | --- | --- | --- |
| Description | Mintage | EF40 | AU50 | MS60 | MS62 | MS63 |
| King Edward VII £1 1908C | 636 | 5,500.00 | 6,500.00 | 7,500.00 | 9,500.00 | 12,500.00 |
| King Edward VII £1 1909C | 16,237 | 1,000.00 | 1,050.00 | 1,200.00 | 1,900.00 | 3,500.00 |
| King Edward VII £1 1910C | 2,812 | 1,000.00 | 1,050.00 | 1,200.00 | 1,900.00 | 3,500.00 |
| King George V £1 1911C | 256,946 | 600.00 | 610.00 | 625.00 | 640.00 | 700.00 |
| King George V £1 1913C | 3,715 | 1,800.00 | 2,100.00 | 2,900.00 | 3,500.00 | 4,500.00 |
| King George V £1 1914C | 14,891 | 750.00 | 800.00 | 1,000.00 | 1,200.00 | 1,500.00 |
| King George V £1 1916C | 6,111 | Rare | Please | Call | For | Price |
| King George V £1 1917C | 58,845 | 620.00 | 630.00 | 650.00 | 675.00 | 700.00 |
| King George V £1 1918C | 106,516 | 620.00 | 630.00 | 650.00 | 675.00 | 1,100.00 |
| King George V £1 1919C | 135,889 | 620.00 | 630.00 | 650.00 | 675.00 | 900.00 |