| | |
| --- | --- |
| Products | |
| | |
| --- | --- |
| | 1-Cent, Large, 1858-1901 (Victoria) |
| | 1-Cent, Large, 1902-10 (Edward VII) |
| | 1-Cent, Large, 1911-20 (George V) |
| | 1-Cent, Small, 1920-36 (George V) |
| | 1-Cent, 1937-52 (George VI) |
| | 1-Cent, 1953-date (Elizabeth II) |
| | Special Offerings of 1-Cent Coins |
| | 5-Cents, 1858-1901 (Victoria) |
| | 5-Cents, 1902-10 (Edward VII) |
| | 5-Cents, Silver, 1911-21 (George V) |
| | 5-Cents, Nickel, 1922-36 (George V) |
| | 5-Cents, 1937-52 (George VI) |
| | 5-Cents, 1953-date (Elizabeth II) |
| | Special Offerings of 5-Cent Coins |
| | 10-Cents, 1858-1901 (Victoria) |
| | 10-Cents, 1902-10 (Edward VII) |
| | 10-Cents, 1911-36 (George V) |
| | 10-Cents, 1937-52 (George VI) |
| | 10-Cents, 1953-date (Elizabeth II) |
| | Special Offerings of 10-Cent Coins |
| | 20-Cents, 1858 (Victoria) |
| | 25-Cents, 1870-1901 (Victoria) |
| | 25-Cents, 1902-10 (Edward VII) |
| | 25-Cents, 1911-36 (George V) |
| | 25-Cents, 1937-52 (George VI) |
| | 25-Cents, 1953-date (Elizabeth II) |
| | Special Offerings of 25-Cent Coins |
| | 50-Cents, 1870-1901 (Victoria) |
| | 50-Cents, 1902-10 (Edward VII) |
| | 50-Cents, 1911-36 (George V) |
| | 50-Cents, 1937-52 (George VI) |
| | 50-Cents, 1953-date (Elizabeth II) |
| | Special Offerings of 50-Cent Coins |
| | $1, Silver, 1935-36 (George V) |
| | $1, Silver, 1937-52 (George VI) |
| | $1, Silver, 1953-67 (Elizabeth II) |
| | Special Offerings of Silver $1 Coins |
| | $1, Nickel, 1968-87 (Elizabeth II) |
| | $1, Loon, 1987-date (Elizabeth II) |
| | $2, Bi-metalic, 1996-date (Elizabeth II) |
| | Canadian Gold Sovereigns, 1908-19 |
| | $5, Gold, 1912-14 (George V) |
| | $10, Gold, 1912-14 (George V) |
| | ROLLS, 1-Cent, 1911-36 |
| | ROLLS, 5-Cent, 1911-36 |
| | ROLLS, Canadian Coinage, 1937-date |
$1, Loon, 1987-date (Elizabeth II)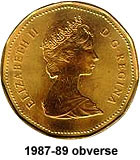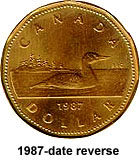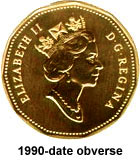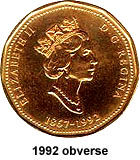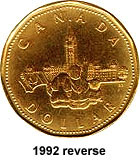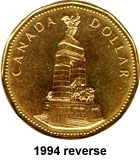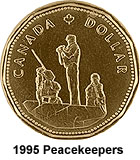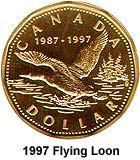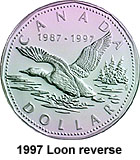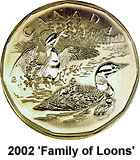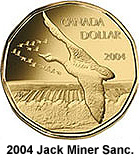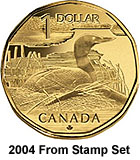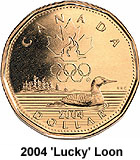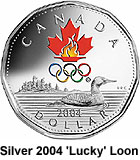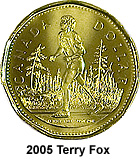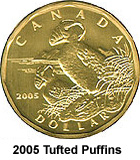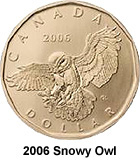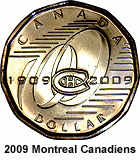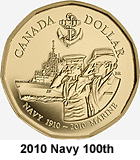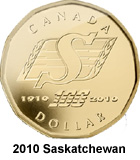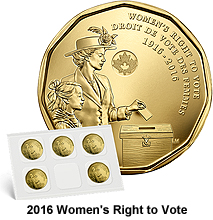 Coins are 11-sided and weigh 7.00 grams with a diameter of 26.72 mm in 1987 and 26.5 mm from 1988-date and have a composition of nickel electroplated with bronze (91.5% nickel, 8.5% bronze). Thickness is 1.95 mm in 1987, 1.75 mm from 1988-date.

This coin design was launched in 1987 amid public criticism over the loss of the $1.00 bill. The design shows a loon swimming across a lake. The coin is multi-sided, with a nickel interior and bronze/aureate coating. The reverse shows Queen Elizabeth. Test tokens for this issue are also known.

Initially, resistance to the coin was high, mostly from older members of the population. The widely held belief that the coin was not needed and was stupid, coupled with the political climate at the time and the series of administrative gaffs leading up to its release all contributed to the coin being named the Loonie, a nickname still in use today. The first issue of the Loon is actually a scarce coin in uncirculated condition, contrary to the customary trend of the second year of issue being more valuable. The public disdain for the coin evidently resulted in few being saved. The Loon dollar coin has also been issued in several commemorative formats and now circulates alongside the new $2.00 coin.

Interestingly, the $2.00 coin did not spark the wide debate that the Loon dollar did, despite the subsequent loss of the $2.00 bill. $5.00 is now the smallest paper bill in general circulation in Canada, although all Government issues of paper money continue to be exchangeable for their full value. Please see the Royal Canadian Mint section for information about special loon designs that did not circulate.

For coins with significant silver content the prices will be adjusted to current market equivalent when an order is filled.

Please note that this catalogue is used as both an ordering tool and the only online reference list of its kind. We do not always have every item available in every grade, nor do we have every older coin or set. However, we tend to have many items available in many grades. Rare or hard to obtain items may not be available. Anything not currently available can be located for you if you request by sending an e-mail, fax, or by calling.


| | | | | | | |
| --- | --- | --- | --- | --- | --- | --- |
| Year | Mintage | MS60 | MS63 | MS64 | MS65 | PL |
| 1987 | 205,405,000 | 2.50 | 3.50 | 8.00 | 30.00 | |
| 1988 (|Limited availability, One per customer) | 138,893,593 | 3.00 | [4.50] | [10.00] | [45.00] | |
| 1989 | 184,773,902 | 4.00 | 5.00 | 12.00 | [60] | |
| 1990 | 68,402,000 | 3.00 | 4.00 | 10.00 | 60.00 | |
| 1991 | 23,156,000 | 3.00 | 4.00 | 10.00 | 50.00 | |
| 1867-1992 Parliament | 23,010,915 | 2.50 | 3.00 | 10.00 | 35.00 | 7.00 |
| 1992 | 4,242,085 | 3.00 | 4.00 | 10.00 | [40] | |
| 1993 | 33,662,000 | 3.00 | 5.00 | 10.00 | 25.00 | 5.00 |
| 1994 Cenotaph | 15,000,000 | 2.50 | 3.50 | 10.00 | 60.00 | |
| 1994 | 40,406,000 | 2.50 | 3.50 | 10.00 | 30.00 | |
| 1995 Peacekeeper | 41,813,000 | 2.50 | 3.50 | 10.00 | 30.00 | |
| 1995 | Incl. Above | 2.50 | 3.50 | 10.00 | [25] | |
| 1996 | 17,101,000 | 3.50 | 4.00 | 10.00 | [25] | |
| 1997 | | | | | | 12.00 |
| 1997 Flying Loon | | | | | | 30.00 |
| 1998 | | | | | | 12.00 |
| 1998 W | | | | | | 17.95 |
| 1999 | | | | | | 9.00 |
| 2000 | | | | | | 12.00 |
| 2000 W | | | | | | 9.00 |
| 2001 PL, SP, or Proof Only | | | | | | 14.00 |
| 1952-2002 Golden Jubilee | 2,301,000 | 3.00 | 4.00 | [7] | [20] | |
| 2002 Family of Loons [PL price was $35] | | | | | | Unavailable |
| 2003 Crowned | 5,101,750 | WANTED: | WE | BUY | COINS | [20] |
| 2003 Uncrowned -- Sold Out | Incl. Above | [3] | [4] | [7] | [20.00] | |
| 2003 W Uncrowned | Incl. Above | | | | | 12.00 |
| 2004 | 3,408,000 | 3.00 | 4.00 | 7.00 | 20.00 | |
| 2004 Lucky Loonie | 6,526,000 | 3.00 | 4.00 | 7.00 | 15.00 | Unavailable |
| 2004 Silver Lucky Loonie [See under Royal Canadian Mint products] | 20,000 | | | | | |
| 2004 Elusive Loon [See Under Royal Canadian Mint - Loons section] | | | | | | |
| 2005 | 32,336,000 | 3.00 | 4.00 | 7.00 | [15] | |
| 2005 Puffin [See under Royal Canadian Mint products - Loons section] | | | | | | |
| 2005 Terry Fox | 12,909,000 | 2.50 | 3.00 | 7.00 | 15.00 | |
| 2006 Lucky Loonie | 8,350,000 | 2.00 | 3.00 | 8.00 | 15.00 | |
| 2006 Silver Lucky Loonie [See under Royal Canadian Mint products - Loons] | 20,000 | | | | | |
| 2006 Logo | 10,495,000 | 2.00 | 3.00 | 8.00 | 15.00 | |
| 2007 Logo | 38,045,000 | 2.00 | 3.00 | 8.00 | [15] | |
| 2008 Logo | 18,710,000 | 2.00 | 3.00 | 8.00 | 15.00 | |
| 2008 Lucky Loonie | 10,851,000 | 3.00 | 5.00 | 10.00 | 25.00 | |
| 2009 with RCM Logo | 10,250,000 | 2.00 | 3.00 | 8.00 | 15.00 | 13.00 |
| 2009 Montreal Canadiens | 10,250,000 | 3.00 | 5.00 | 10.00 | 25.00 | RCM Section |
| 2010 Lucky Loonie | 10,250,000 | 3.00 | 5.00 | 8.00 | 15.00 | |
| 2010 Logo | 4,110,000 | 2.00 | 3.00 | 8.00 | 15.00 | |
| 2010 Saskatchewan Roughriders | 3,100,000 | 4.00 | 6.00 | 10.00 | 25.00 | |
| 2010 Navy | 7,000,000 | 2.00 | 3.00 | 8.00 | 15.00 | |
| 2011 Logo | 20,410,000 | 2.00 | 3.00 | 8.00 | 15.00 | |
| 2011 Parks Canada | 5,000,000 | 2.00 | 3.00 | 8.00 | 15.00 | |
| 2012 Logo (Old Style) | 2,414,000 | 6.00 | 8.00 | [15] | [25] | |
| 2012 Logo (New Style) | 107,105,000 | 2.00 | 3.00 | 8.00 | 15.00 | |
| 2012 Lucky Loonie | 5,000,000 | 2.00 | 3.00 | 8.00 | 15.00 | |
| 2012 Grey Cup | 5,000,000 | 2.00 | 3.00 | 8.00 | 15.00 | |
| 2013 Logo | 120,330,000 | 2.00 | 3.00 | 8.00 | 15.00 | |
| 2014 Logo | 24,978,000 | 2.00 | 3.00 | 8.00 | 15.00 | |
| 2014 Lucky Loonie | 5,000,000 | 2.00 | 3.00 | 8.00 | 15.00 | |
| 2015 Logo | 22,140,000 | 2.00 | 3.00 | 8.00 | 15.00 | P.O.R. |
| 2016 Loon | 28,764,000 | 2.00 | 3.00 | 8.00 | 15.00 | |
| 2016 Womens' Right to Vote | 5,000,000 | 2.00 | 3.00 | 8.00 | 15.00 | |
| 2016 100th Anniversary of Women's Right to Vote Pack of 5 Coins | | | | | | 6.50 |
| 2016 Lucky Loonie | 5,000,000 | 2.00 | 3.00 | 8.00 | 15.00 | |
| 2017 (1867-2017) | 10,000,000 | 2.00 | 3.00 | 8.00 | 15.00 | |
| 2017 Toronto Maple Leafs Centennial | 5,150,000 | 2.00 | 3.00 | 8.00 | 15.00 | |