| | |
| --- | --- |
| Products | |
| | |
| --- | --- |
| | 1-Cent, Large, 1858-1901 (Victoria) |
| | 1-Cent, Large, 1902-10 (Edward VII) |
| | 1-Cent, Large, 1911-20 (George V) |
| | 1-Cent, Small, 1920-36 (George V) |
| | 1-Cent, 1937-52 (George VI) |
| | 1-Cent, 1953-date (Elizabeth II) |
| | Special Offerings of 1-Cent Coins |
| | 5-Cents, 1858-1901 (Victoria) |
| | 5-Cents, 1902-10 (Edward VII) |
| | 5-Cents, Silver, 1911-21 (George V) |
| | 5-Cents, Nickel, 1922-36 (George V) |
| | 5-Cents, 1937-52 (George VI) |
| | 5-Cents, 1953-date (Elizabeth II) |
| | Special Offerings of 5-Cent Coins |
| | 10-Cents, 1858-1901 (Victoria) |
| | 10-Cents, 1902-10 (Edward VII) |
| | 10-Cents, 1911-36 (George V) |
| | 10-Cents, 1937-52 (George VI) |
| | 10-Cents, 1953-date (Elizabeth II) |
| | Special Offerings of 10-Cent Coins |
| | 20-Cents, 1858 (Victoria) |
| | 25-Cents, 1870-1901 (Victoria) |
| | 25-Cents, 1902-10 (Edward VII) |
| | 25-Cents, 1911-36 (George V) |
| | 25-Cents, 1937-52 (George VI) |
| | 25-Cents, 1953-date (Elizabeth II) |
| | Special Offerings of 25-Cent Coins |
| | 50-Cents, 1870-1901 (Victoria) |
| | 50-Cents, 1902-10 (Edward VII) |
| | 50-Cents, 1911-36 (George V) |
| | 50-Cents, 1937-52 (George VI) |
| | 50-Cents, 1953-date (Elizabeth II) |
| | Special Offerings of 50-Cent Coins |
| | $1, Silver, 1935-36 (George V) |
| | $1, Silver, 1937-52 (George VI) |
| | $1, Silver, 1953-67 (Elizabeth II) |
| | Special Offerings of Silver $1 Coins |
| | $1, Nickel, 1968-87 (Elizabeth II) |
| | $1, Loon, 1987-date (Elizabeth II) |
| | $2, Bi-metalic, 1996-date (Elizabeth II) |
| | Canadian Gold Sovereigns, 1908-19 |
| | $5, Gold, 1912-14 (George V) |
| | $10, Gold, 1912-14 (George V) |
| | ROLLS, 1-Cent, 1911-36 |
| | ROLLS, 5-Cent, 1911-36 |
| | ROLLS, Canadian Coinage, 1937-date |
$1, Nickel, 1968-87 (Elizabeth II)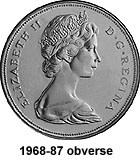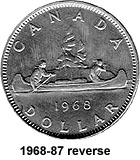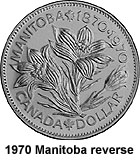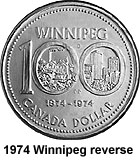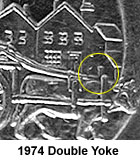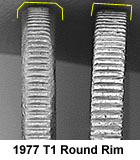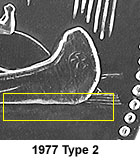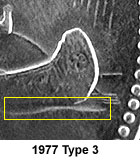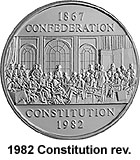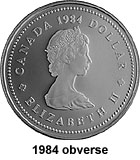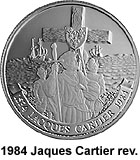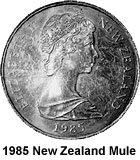 A special commemorative reverse design in 1970 featuring a prairie crocus celebrated the centennial of Manitoba into Confederation. In 1971, the arms of the province of British Columbia with a shield at the bottom and the flowering dogwood was designed to commemorate the entry of British Columbia into Confederation.

The provincial legislature building of P.E.I. was the special reverse in 1973 to mark the 100th anniversary of the entry of Prince Edward Island into Confederation.

The 1974 issue commemorates the centenary of the city of Winnipeg, Manitoba. This featured a large 100. In the first 0 is a view of Main Street in 1874 and in the second 0 is a view of the same location 100 years later.

A one dollar to commemorate the new Canada Constitution was issued in 1982. The design features a reproduction of the celebrated painting of the Fathers of Confederation.

To commemorate the landing of Jacques Cartier at Gaspe, Quebec in 1534, a new design was issued in 1984.

Please note that this catalogue is used as both an ordering tool and the only online reference list of its kind. We do not always have every item available in every grade, nor do we have every older coin or set. However, we tend to have many items available in many grades. Rare or hard to obtain items may not be available. Anything not currently available can be located for you if you request by sending an e-mail, fax, or by calling.


| | | | | | | |
| --- | --- | --- | --- | --- | --- | --- |
| Year | Mintage | MS60 | MS62 | MS63 | MS64 | Proof-Like |
| 1968 | 4,755,080 | 2.00 | 2.25 | 3.00 | 10.00 | 3.00 |
| 1968 - Small Island | Included | [6.00] | [8.00] | 12.00 | [25.00] | 12.00 |
| 1968 - No Island | Incl. above | [5.00] | [8.00] | [14.00] | [25.00] | [5.00] |
| 1968 - Extra Waterlines | Included | | | 30.00 | | |
| 1969 | 4,215,055 | 2.00 | 2.25 | 3.00 | 20.00 | 3.00 |
| 1970 Manitoba | 3,493,189 | 2.00 | 2.25 | 3.00 | 15.00 | 4.00 |
| 1971 BC | 3,659,045 | 2.00 | 2.25 | 3.00 | 20.00 | 1.50 |
| 1972 | 2,193,000 | 2.00 | 2.25 | 3.00 | 12.00 | 1.50 |
| 1973 PEI | 2,683,000 | 3.00 | 3.50 | 4.00 | 12.00 | 3.00 |
| 1974 Winnipeg | 2,286,027 | 3.00 | 3.50 | 4.00 | 12.00 | 2.50 |
| 1974 Double Yoke #2 | Incl. above | 100.00 | 120.00 | 150.00 | 200.00 | |
| 1975 | 3,256,000 | 2.50 | 3.00 | 3.50 | 12.00 | 4.00 |
| 1976 | 1,717,010 | 3.00 | 3.50 | 4.00 | 20.00 | 4.00 |
| 1977 Type I, Round Rim Reeding | 11,393,745 | 8.00 | 10.00 | 12.00 | 20.00 | |
| 1977 Type II, Square Rim Reeding, Waterline | Incl. above | 3.00 | 3.50 | 4.00 | 12.00 | 6.00 |
| 1977 Type III, Square Rim Reeding, Short Waterline | Incl. above | 4.00 | 4.50 | 5.00 | 15.00 | 12.00 |
| 1978 | 2,948,488 | 2.50 | 3.00 | 3.50 | 12.00 | 5.00 |
| 1979 | 2,544,000 | 2.50 | 3.00 | 3.50 | 20.00 | 5.00 |
| 1980 | 2,922,000 | 2.50 | 3.00 | 3.50 | 20.00 | 6.00 |
| 1981 | 2,778,900 | 2.50 | 3.00 | 3.50 | 15.00 | 5.00 |
| 1982 | 1,544,398 | 2.50 | 3.00 | 3.50 | 12.00 | 5.00 |
| 1982 Constitution | 11,812,000 | 2.50 | 3.00 | 3.50 | 12.00 | 10.00 |
| 1983 | 2,267,525 | 3.00 | 3.50 | 4.00 | 12.00 | 7.00 |
| 1984 | 1,223,486 | 3.00 | 3.50 | 4.00 | 20.00 | 7.00 |
| 1984 Jacques Cartier | 6,141,503 | 2.50 | 2.75 | 3.00 | 15.00 | |
| 1985 | 3,104,592 | 2.50 | 3.00 | 3.50 | 50.00 | 10.00 |
| 1985 New Zealand Mule | unavailable | 5,000.00 | | | | |
| 1986 | 3,089,225 | 3.00 | 3.50 | 4.00 | 12.00 | 7.00 |
| 1987 | PL Only | | | | | 7.00 |