| | |
| --- | --- |
| Products | |
| | |
| --- | --- |
| | 1-Cent, Large, 1858-1901 (Victoria) |
| | 1-Cent, Large, 1902-10 (Edward VII) |
| | 1-Cent, Large, 1911-20 (George V) |
| | 1-Cent, Small, 1920-36 (George V) |
| | 1-Cent, 1937-52 (George VI) |
| | 1-Cent, 1953-date (Elizabeth II) |
| | Special Offerings of 1-Cent Coins |
| | 5-Cents, 1858-1901 (Victoria) |
| | 5-Cents, 1902-10 (Edward VII) |
| | 5-Cents, Silver, 1911-21 (George V) |
| | 5-Cents, Nickel, 1922-36 (George V) |
| | 5-Cents, 1937-52 (George VI) |
| | 5-Cents, 1953-date (Elizabeth II) |
| | Special Offerings of 5-Cent Coins |
| | 10-Cents, 1858-1901 (Victoria) |
| | 10-Cents, 1902-10 (Edward VII) |
| | 10-Cents, 1911-36 (George V) |
| | 10-Cents, 1937-52 (George VI) |
| | 10-Cents, 1953-date (Elizabeth II) |
| | Special Offerings of 10-Cent Coins |
| | 20-Cents, 1858 (Victoria) |
| | 25-Cents, 1870-1901 (Victoria) |
| | 25-Cents, 1902-10 (Edward VII) |
| | 25-Cents, 1911-36 (George V) |
| | 25-Cents, 1937-52 (George VI) |
| | 25-Cents, 1953-date (Elizabeth II) |
| | Special Offerings of 25-Cent Coins |
| | 50-Cents, 1870-1901 (Victoria) |
| | 50-Cents, 1902-10 (Edward VII) |
| | 50-Cents, 1911-36 (George V) |
| | 50-Cents, 1937-52 (George VI) |
| | 50-Cents, 1953-date (Elizabeth II) |
| | Special Offerings of 50-Cent Coins |
| | $1, Silver, 1935-36 (George V) |
| | $1, Silver, 1937-52 (George VI) |
| | $1, Silver, 1953-67 (Elizabeth II) |
| | Special Offerings of Silver $1 Coins |
| | $1, Nickel, 1968-87 (Elizabeth II) |
| | $1, Loon, 1987-date (Elizabeth II) |
| | $2, Bi-metalic, 1996-date (Elizabeth II) |
| | Canadian Gold Sovereigns, 1908-19 |
| | $5, Gold, 1912-14 (George V) |
| | $10, Gold, 1912-14 (George V) |
| | ROLLS, 1-Cent, 1911-36 |
| | ROLLS, 5-Cent, 1911-36 |
| | ROLLS, Canadian Coinage, 1937-date |
$2, Bi-metalic, 1996-date (Elizabeth II)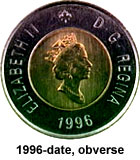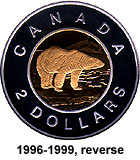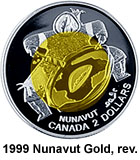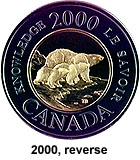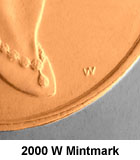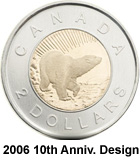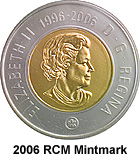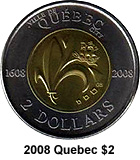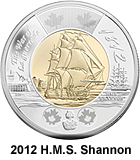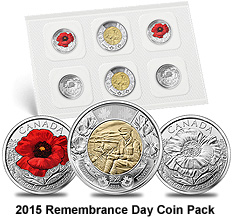 Composition: Nickel outer ring and bronze aureate interior plug.
Issued: Beginning in 1996

The original design shows a polar bear walking against a northern backdrop. The design was selected by a national competition. Public survey showed that wildlife was consistently a desired theme. The reverse shows Queen Elizabeth's profile. Canada-Two Dollars appears in block lettering around the bear design.

The first day of introduction of the coin was February 19th, 1996 -- coincidentally the same day the $2.00 note was officially withdrawn from circulation. This includes $2.00 uncut sheets. The first $2.00 coins were struck from 60,000,000 pre-assembled blanks manufactured in Germany, just to get the circulation going. Then gradually, the mint began gearing up for local production by linking plugs and rings together by vibration and then stamping the design, with the pressure expanding the plug into a lock against the ring.

These different methods of manufacture have resulted in a spate of different errors being known. These errors range from totally empty blanks, to varying degrees of plug misplacement to missing plugs or rings. Test tokens of this issue were widely distributed to the collecting public. The edge features interrupted milling, or in other words alternating sections of smooth and channeled edge. The mint also released the new coin in several collector formats, including 22kt gold with silver.

To commemorate Canada's newest Territory, a 1999 Nunavut $2 coin was minted. To celebrate the changing of the millennium, the Royal Canadian Mint released a special "Path of Knowledge" edition of the $2 coin. Instead of the single bear of the original design it features a mother polar bear and two of her cubs. The coin is intended to convey the "passing of knowledge from generation to generation." A gold variant of the Nunavut and Knowledge coins is also available.

Please note that this catalogue is used as both an ordering tool and the only online reference list of its kind. We do not always have every item available in every grade, nor do we have every older coin or set. However, we tend to have many items available in many grades. Rare or hard to obtain items may not be available. Anything not currently available can be located for you if you request by sending an e-mail, fax, or by calling. Items in black print are known to be out of stock.


| | | | | | | |
| --- | --- | --- | --- | --- | --- | --- |
| Description | Mintage | MS62 | MS63 | MS64 | MS65 | PL |
| 1996 Canadian Planchet | 375,483,000 | 4.00 | 6.00 | 10.00 | 50.00 | |
| 1996 German Planchet | | [35.00] | [50.00] | [200.00] | [250.00] | |
| 1997 | 16,942,000 | 4.00 | 6.00 | 10.00 | [35.00] | 8.00 |
| 1997 (Winnipeg Mint, PL Only) | | | | | | 8.00 |
| 1998 | 5,309,000 | 4.00 | 6.00 | 10.00 | 35.00 | 8.00 |
| 1998 W | | | | | | 8.00 |
| 1999 | 117,318 | | | | | 8.00 |
| 1999 Nunavut | 25,130,000 | 4.00 | 6.00 | 10.00 | [35] | 8.00 |
| 1999 Nunavut Mule | | | | | | 300.00 |
| 2000 Knowledge | 29,880,000 | 4.00 | 6.00 | 10.00 | 35.00 | 6.00 |
| 2000 W | 186,986 | | | | | 6.00 |
| 2001 | 11,910,000 | 4.00 | 6.00 | 10.00 | 35.00 | 6.00 |
| 1952-2002 | 27,008,000 | 4.00 | 6.00 | 10.00 | [35] | 6.00 |
| 2003 Old Effigy, with Crown | 7,123,697 | 4.00 | 6.00 | 10.00 | 40.00 | 6.00 |
| 2003 New Effigy, Uncrowned | 4,120,104 | 4.00 | 6.00 | 10.00 | 50.00 | [8.00] |
| 2003 W New Effigy | | | | | | 6.00 |
| 2004 Uncrowned | 12,908,000 | 4.00 | 6.00 | 10.00 | 35.00 | 6.00 |
| 2005 | 38,318,000 | 4.00 | 6.00 | 10.00 | 35.00 | 6.00 |
| 2006 (No RCM Logo) | 25,274,000 | 4.00 | 6.00 | 10.00 | 35.00 | |
| 2006 Logo | Incl. Above | 4.00 | 6.00 | 10.00 | 35.00 | |
| 1996-2006 RCM Logo - Churchill Reverse | 5,036,636 | 4.00 | 8.00 | 15.00 | | [12.00] |
| 2007 Logo | 38,957,000 | 4.00 | 6.00 | 10.00 | 35.00 | 6.00 |
| 2008 Logo | 12,390,000 | 4.00 | 6.00 | 10.00 | 35.00 | [6] |
| 2008 Quebec | 6,010,000 | 4.00 | 6.00 | 10.00 | 35.00 | |
| 2009 Logo | 38,430,000 | 4.00 | 6.00 | 10.00 | 35.00 | 6.00 |
| 2010 Logo, 14 Serrations | Included | [15.00] | [20.00] | [40.00] | [100.00] | |
| 2010 Logo, 16 Serrations | 8,220,000 | 4.00 | 6.00 | 10.00 | 35.00 | [8] |
| 2010 Lynx Kittens ["Specimen" not "PL"] | | | | | | Not available |
| 2011 Logo | 22,488,000 | 4.00 | 6.00 | 10.00 | 35.00 | 8.00 |
| 2011 Baby Elk ["Specimen" not "PL"] | | | | | | Not available |
| 2011 Boreal Forest | 5,000,000 | 4.00 | 6.00 | 10.00 | 35.00 | |
| 2012 Logo (Old Style) | 1,531,000 | 10.00 | 15.00 | [35] | [50] | [8] |
| 2012 New Laser Engraving | 82,862,000 | 4.00 | 6.00 | 10.00 | 35.00 | |
| 2012 Wolf Cubs ["Specimen" not "PL"] | | | | | | 45.00 |
| 2012 HMS Shannon | 5,000,000 | 4.00 | 6.00 | 10.00 | 35.00 | |
| 2013 Logo | 12,390,000 | 4.00 | 6.00 | 10.00 | 35.00 | [8] |
| 2013 Black Bear Cubs ["Specimen" not "PL"] [45.00] | | | | | | |
| 2014 | 16,305,000 | 4.00 | 6.00 | 10.00 | 35.00 | |
| 2014 "Wait for me Daddy" | 5,000,000 | 4.00 | 6.00 | 10.00 | 35.00 | |
| 2015 | 30,378,500 | 4.00 | 6.00 | 10.00 | 35.00 | 8.00 |
| 2015 Sir John A. MacDonald | 5,000,000 | 4.00 | 6.00 | 10.00 | 35.00 | N/A |
| 2015 "In Flanders Fields" | 12,500,000 | 4.00 | 6.00 | 10.00 | 35.00 | |
| 2016 | 20,669,000 | 4.00 | 6.00 | 10.00 | 35.00 | |
| 2016 "Battle of the Atlantic" | 5,000,000 | 4.00 | 6.00 | 10.00 | 35.00 | |
| 2017 (1867-2017) | 39,595,000 | 4.00 | 6.00 | 10.00 | 35.00 | |
| 2017 Vimy Ridge | Unavailable | 4.00 | 6.00 | 10.00 | 35.00 | |