| | |
| --- | --- |
| Products | |
| | |
| --- | --- |
| | 1-Cent, Large, 1858-1901 (Victoria) |
| | 1-Cent, Large, 1902-10 (Edward VII) |
| | 1-Cent, Large, 1911-20 (George V) |
| | 1-Cent, Small, 1920-36 (George V) |
| | 1-Cent, 1937-52 (George VI) |
| | 1-Cent, 1953-date (Elizabeth II) |
| | Special Offerings of 1-Cent Coins |
| | 5-Cents, 1858-1901 (Victoria) |
| | 5-Cents, 1902-10 (Edward VII) |
| | 5-Cents, Silver, 1911-21 (George V) |
| | 5-Cents, Nickel, 1922-36 (George V) |
| | 5-Cents, 1937-52 (George VI) |
| | 5-Cents, 1953-date (Elizabeth II) |
| | Special Offerings of 5-Cent Coins |
| | 10-Cents, 1858-1901 (Victoria) |
| | 10-Cents, 1902-10 (Edward VII) |
| | 10-Cents, 1911-36 (George V) |
| | 10-Cents, 1937-52 (George VI) |
| | 10-Cents, 1953-date (Elizabeth II) |
| | Special Offerings of 10-Cent Coins |
| | 20-Cents, 1858 (Victoria) |
| | 25-Cents, 1870-1901 (Victoria) |
| | 25-Cents, 1902-10 (Edward VII) |
| | 25-Cents, 1911-36 (George V) |
| | 25-Cents, 1937-52 (George VI) |
| | 25-Cents, 1953-date (Elizabeth II) |
| | Special Offerings of 25-Cent Coins |
| | 50-Cents, 1870-1901 (Victoria) |
| | 50-Cents, 1902-10 (Edward VII) |
| | 50-Cents, 1911-36 (George V) |
| | 50-Cents, 1937-52 (George VI) |
| | 50-Cents, 1953-date (Elizabeth II) |
| | Special Offerings of 50-Cent Coins |
| | $1, Silver, 1935-36 (George V) |
| | $1, Silver, 1937-52 (George VI) |
| | $1, Silver, 1953-67 (Elizabeth II) |
| | Special Offerings of Silver $1 Coins |
| | $1, Nickel, 1968-87 (Elizabeth II) |
| | $1, Loon, 1987-date (Elizabeth II) |
| | $2, Bi-metalic, 1996-date (Elizabeth II) |
| | Canadian Gold Sovereigns, 1908-19 |
| | $5, Gold, 1912-14 (George V) |
| | $10, Gold, 1912-14 (George V) |
| | ROLLS, 1-Cent, 1911-36 |
| | ROLLS, 5-Cent, 1911-36 |
| | ROLLS, Canadian Coinage, 1937-date |
$1, Silver, 1953-67 (Elizabeth II)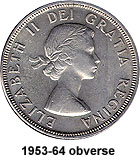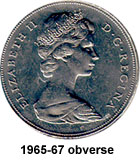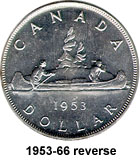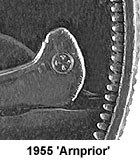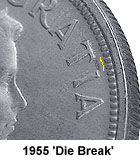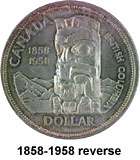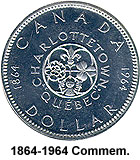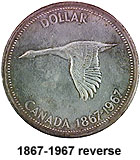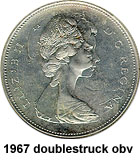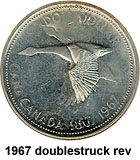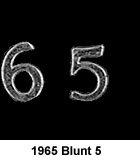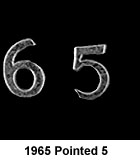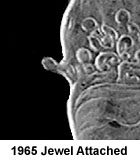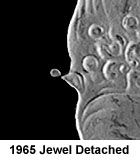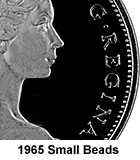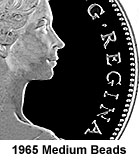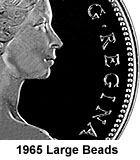 Coins from 1953-1967 weigh 23.33 grams with a diameter of 36 mm and have a composition of .800 silver, .200 copper.


1955 saw 2,000 silver dollars made up for a firm in Arnprior, Ontario. These coins had 2.5 water lines at the right of the canoe.

Part of the 1957 issue had only one of the long water lines at the right end of the canoe.

In 1958, a commemorative coin was designed for the centenary of the Caribou gold rush and the establishment of British Columbia. The design was a totem pole section with mountains in the background. It was rumoured that Indians disliked this dollar because at the top of the totem was a raven which symbolize death.

To mark the 100th anniversary of the meetings at Charlottetown, P.E.I. and Quebec City, the reverse of the 1964 silver dollar had a special design. This design is a circle within which are the conjoined French fleur-de-lis, the Irish shamrock, the Scottish thistle and the English rose. A Canada goose in flight was designed for the commemorative coins in 1967.

For coins with significant silver content the prices will be adjusted to current market equivalent when an order is filled.

Please note that this catalogue is used as both an ordering tool and the only online reference list of its kind. We do not always have every item available in every grade, nor do we have every older coin or set. However, we tend to have many items available in many grades. Rare or hard to obtain items may not be available. Anything not currently available can be located for you if you request by sending an e-mail, fax, or by calling.


| | | | | | | | | | |
| --- | --- | --- | --- | --- | --- | --- | --- | --- | --- |
| Year | Mintage | VF20 | EF40 | AU50 | MS60 | MS62 | MS63 | MS64 | MS65 |
| 1953 No Shoulder Fold | 1,073,218 | | 22.00 | 23.00 | 25.00 | 28.00 | 30.00 | 70.00 | 300.00 |
| 1953 Shoulder Fold | Incl. Above | | 22.00 | 23.00 | 26.00 | 28.00 | 35.00 | 70.00 | 300.00 |
| 1953 Short Water Line | Incl. Above | | 24.00 | 28.00 | 30.00 | 35.00 | 55.00 | 120.00 | |
| 1954 | 241,306 | | 28.00 | 30.00 | 40.00 | 45.00 | 50.00 | 135.00 | 800.00 |
| 1955 | 260,155 | | 28.00 | 30.00 | 35.00 | 40.00 | 50.00 | 120.00 | 600.00 |
| 1955 Arnprior with Die Break | Incl. Above | | 120.00 | 140.00 | 170.00 | 220.00 | 300.00 | 650.00 | 2,200.00 |
| 1955 Arnprior No Die Break | Incl. Above | | 65.00 | 75.00 | 80.00 | 100.00 | 160.00 | 400.00 | |
| 1956 | 198,880 | | 30.00 | 32.00 | 40.00 | 50.00 | 80.00 | 300.00 | 2,500.00 |
| 1957 | 480,899 | | 26.00 | 28.00 | 30.00 | 32.00 | 35.00 | 150.00 | 1,000.00 |
| 1957 One Water Line | Incl. above | | 28.00 | 30.00 | 32.00 | 36.00 | 55.00 | 500.00 | |
| 1958 | 3,039,630 | | | 25.00 | 26.00 | 27.00 | 30.00 | 60.00 | 225.00 |
| 1959 | 1,398,342 | | | 25.00 | 26.00 | 27.00 | 28.00 | 100.00 | 600.00 |
| 1960 | 1,337,758 | | | 25.00 | 26.00 | 27.00 | 28.00 | 95.00 | 450.00 |
| 1961 | 1,141,303 | | | 25.00 | 26.00 | 27.00 | 28.00 | 100.00 | 600.00 |
| 1962 | 1,636,248 | | | 25.00 | 26.00 | 27.00 | 28.00 | 70.00 | 350.00 |
| 1963 | 3,126,446 | | | 25.00 | 26.00 | 27.00 | 28.00 | 90.00 | 450.00 |
| 1964 | 4,434,391 | | | 25.00 | 26.00 | 27.00 | 28.00 | 90.00 | 450.00 |
| 1964 No Dot | Incl. Above | | | | 35.00 | 40.00 | 45.00 | | |
| 1965 Small Beads, Pointed 5 | 7,863,885 | | | | 25.00 | 26.00 | 28.00 | 50.00 | 350.00 |
| 1965 Small Beads, Blunt 5 | Incl. Above | | | | 25.00 | 26.00 | 28.00 | 180.00 | 600.00 |
| 1965 Large Beads, Blunt 5 | Incl. Above | | | | 25.00 | 26.00 | 28.00 | 50.00 | 240.00 |
| 1965 Large Beads, Pointed 5 | Incl. Above | | | | 25.00 | 26.00 | 28.00 | 75.00 | 300.00 |
| 1965 Medium Beads, Pointed 5 | Incl. Above | | | [30] | 35.00 | 40.00 | 50.00 | 200.00 | |
| 1966 | 9,239,315 | | | | 25.00 | 26.00 | 28.00 | 50.00 | 225.00 |
| 1966 Dot | Incl. Above | | | 30.00 | 35.00 | 40.00 | 45.00 | 100.00 | |
| 1966 Small Beads | Incl. Above | | | | | 4,000.00 | 4,500.00 | 5,000.00 | |
| 1967 | 5,816,176 | | | | 25.00 | 26.00 | 27.00 | 45.00 | 160.00 |
| 1967 Diving Goose, 45 degree die rotation | Incl. Above | | | | | | 1,000.00 | 1,400.00 | 2,000.00 |
| 1967 Double Struck | Incl. Above | | | | | | 1,250.00 | 1,600.00 | 2,500.00 |
| 1967 Triple Struck | Incl. above | | | | | | 3,000.00 | 4,000.00 | 5,500.00 |
| 1967 Flip Struck | Incl. above | | | | | | 8,000.00 | 9,500.00 | |
| Blue Velvet Silver Dollar Presentation Case (holds 46 coins) | n/a | 59.95 | | | | | | | |
| Special Oversize Capsules for Silver Dollar Case | n/a | 1.00 | | | | | | | |