J&M Coin & Jewellery Ltd.
127 East Broadway
Vancouver, BC, V5T 1W1
Canada
Tel: (604) 876-7181
Toll Free Ordering: 1-888-244-9999
Fax: (604) 876-1518
e-Mail: jandm@jandm.com
Web: www.jandm.com







We accept Visa and MasterCard for Internet and telephone orders.






Website catalogue secured by Verisign.

Catalogue Info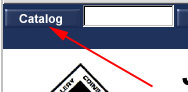 This page provides information about our catalogue but it is NOT our catalogue. To access our selection of inventory, just click on the blue 'Catalog' button in the top left of the screen. If you don't see a blue Catalog button, click HERE to go to the front page of our website.

Since 1996 J&M's comprehensive online catalogue has provided our clients with secure and reliable Internet purchasing access to our catalogue of Canadian and collector coins. Our inventory is categorized and indexed by type, you can search for a reference, images are included for most items, and so is additional background on special mint issues. Please note that this catalogue is used as both an ordering tool and reference list. We do not always have every item available in every grade, especially older or less common items, however we tend to have many items available in many grades. Anything not currently available we can attempt to locate for you if you request by sending an e-mail, fax, or by calling.
To access J&M's Internet catalogue (requires a frame-capable browser), simply click on the blue "Catalogue" button in the very top left of your screen. This will open a table of contents to the left, and a display panel to the right. (See illustration below, reduced in size from original.)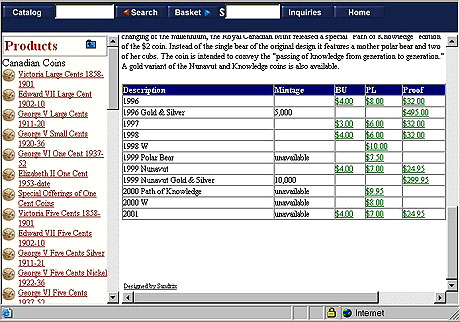 Click on a category then subcategory for a full listing on that item. Jump back to this site at any time by clicking on the "Home" button in the top right of your screen. Ordering is as simple as clicking on the current price. (IMPORTANT NOTE: All online catalogue prices are in Canadian Dollars unless otherwise stated or specially selected and are subject to change without notice.)

For prices on items not shown in our catalogue, and for those items based on daily rates, please call us at 604-876-7181. To place an order, call our toll-free order line at 1-888-244-9999 (from anywhere in North America).

We buy, sell and trade. Make us an offer.


Home | Catalogue Info | Ordering Info
Coins & Collectibles | Precious Metals | Foreign Exchange | Online Auctions | Fine Jewellery
Contact Info | Info & Links | Top



Website © Copyright J&M Coin & Jewellery Ltd. 1998-2012. All rights reserved.