J&M Coin & Jewellery Ltd.
127 East Broadway
Vancouver, BC, V5T 1W1
Canada
Tel: (604) 876-7181
Toll Free Ordering: 1-888-244-9999
Fax: (604) 876-1518
e-Mail: jandm@jandm.com
Web: www.jandm.com





Online Auctions
For forty years J&M has participated in coin, banknote, and jewellery auctions. At one time we even hosted our own auctions, printing and mailing catalogues around the world. Nowadays we attend the major auctions but have gone online with our offerings.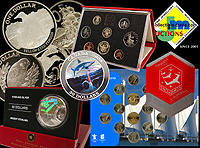 Unsatisfied with the grading deceptions and lack of guarantees to be found with mainstream online auctions, we have created our own auction website service with a difference -- you won't find any unusual foodstains or knitted socks or car batteries on our website: it is for coins, banknotes, stamps, and hobby related products. Another difference is that only pre-screened and approved coin and stamp dealers can list their items and all listings are checked for honesty and accuracy before they go live. Any adult (must be legal age where you live) can bid. This creates a trustworthy environment screened by industry professionals.

Click on the image above or visit Collectible Trade to see the current items up for auction.

And, yes, we also occassionally list our items on eBay. We are jandm-coin-jewellery.


Home | Catalogue Info | Ordering Info
Coins & Collectibles | Precious Metals | Foreign Exchange | Online Auctions | Fine Jewellery
Contact Info | Info & Links | Top



Website © Copyright J&M Coin & Jewellery Ltd. 1998-2012. All rights reserved.