J&M Coin & Jewellery Ltd.
127 East Broadway
Vancouver, BC, V5T 1W1
Canada
Tel: (604) 876-7181
Toll Free Ordering: 1-888-244-9999
Fax: (604) 876-1518
e-Mail: jandm@jandm.com
Web: www.jandm.com






Precious Metals
Gold, silver, platinum, palladium -- over the years these metals have been collected for their beauty and value. Kings of old gathered gold for tributes and to pay for their empires. Today, these precious metals (bullion) are an ideal way to invest in tangible assets. J&M can provide for all your bullion buying and selling needs.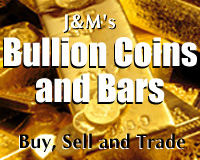 Most people imagine lines of gold bars and ingots when they think about bullion products. Refining has improved immensely yet trade bars (up to .9999% pure) have been a standard of exchange for centuries. Such bars can be unweildly so most investors combine coin and bullion investment into gold, silver, platinum and palladium mint issue coins -- such as Canada's Maple Leaf, the U.S.A.'s Eagle, South Africa's Krugerrand, China's Panda, and so on.

Click on the image above or visit Bullion Coins and Bars.com to see our current prices for buying or selling precious metals.

We buy, sell and trade. Make us an offer.


Home | Catalogue Info | Ordering Info
Coins & Collectibles | Precious Metals | Foreign Exchange | Online Auctions | Fine Jewellery
Contact Info | Info & Links | Top



Website © Copyright J&M Coin & Jewellery Ltd. 1998-2012. All rights reserved.