U.S.A. Silver Eagle Coins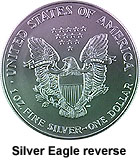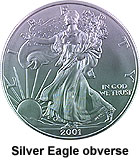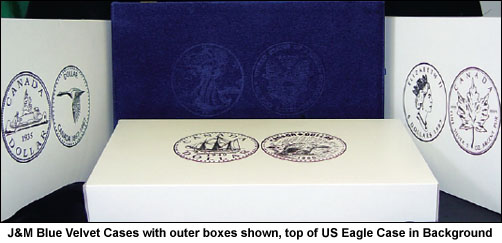 Denomination: $1; Composition: 0.9993 silver, 0.0007 copper; Weight: 31.101 grams; Diameter: 40.6 mm; Edge: reeded; Issued: 1986 to date

The Silver Eagle coins are the United States' answer to a bullion coin for investors. This means that generally the coins have no value to a collector, only the content of the metal contained. However, some of the dates had low mintages produced, making them of numismatic interest. Additionally, proof editions in luxury cases were produced for most dates with the express intention of targeting both the collector and upscale investor market. Numismatic premiums are the exception rather than the rule for most of the entire series, excepting the proof editions which do carry notable premiums.

The Bullion Eagle series depicts the Walking Liberty design reminiscent of the fifty cent piece of 1916-1947 and the Twenty Dollar St. Gaudens design of 1907-1933. On the gold edition, the date is sometimes expressed in Roman numerals. Take care not to confuse this issue with the circulating gold coins of the U.S. up to 1933, also known as Quarter Eagle, Half Eagle, Eagle, and Double Eagle.

These are bullion coins with prices subject to change in accord with the markets and without notice. Please consider these prices as a close indicator of pricing for estimation purposes only. Regret we do not accept credit card payments for bullion purchases. For current buying and selling prices, ordering and selling instructions, a Frequently Asked Question List, and useful forms, please visit our comprehensive Bullion Coins and Bars website, updated M-F (www.bullioncoinsandbars.com).

Please note that this catalogue is used as both an ordering tool and the only online reference list of its kind. We do not always have every item available in every grade, nor do we have every older coin or set. However, we tend to have many items available in many grades. Rare or hard to obtain items may not be available. Anything not currently available can be located for you if you request by sending an e-mail, fax, or by calling.


| | |
| --- | --- |
| Year | Each |
| 1986 | POR |
| 1987 | POR |
| 1988 | POR |
| 1989 | POR |
| 1990 | POR |
| 1991 | POR |
| 1992 | POR |
| 1993 | POR |
| 1994 | POR |
| 1995 | POR |
| 1996 | POR |
| 1997 | POR |
| 1998 | POR |
| 1999 | POR |
| 2000 | POR |
| 2001 | POR |
| 2002 | POR |
| 2003 | POR |
| 2004 | POR |
| 2005 | POR |
| 2006 | POR |
| 2007 | POR |
| 2008 | POR |
| 2009 | POR |
| Complete Date Set 1986-2009 (24 coins) | POR |
| Deluxe Silver Eagle Case 1986-date | 59.95 |
| Deluxe Silver Eagle Capsules for Above Case, each | 1.00 |