| | |
| --- | --- |
| Products | |
Silver Maple Leaf Coins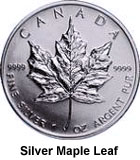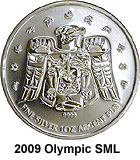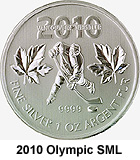 Denomination: $5 (1 oz.) $50 (1998 10 oz.); Composition: .9999 Silver; Weight: 31.15 grams (311.5 grams 1998 10 oz.); Diameter: 38.0 mm (65.0 mm 1998 10 oz.); Thickness: 3.21 mm (11.0 mm 1998); Issued: Beginning in 1988 and every year since (10 oz. version in 1998 only).

What started as a new addition to Canada's family of bullion coins grew into a widely collected series of large silver coins. All the coins show a large maple leaf, and Queen Elizabeth II. Reeded edge. Issue received a late start in 1988 and thusly started out initially as a hard to find item. Large mintages in 1989 and 1990 solved that problem, although the 1988 continues to have a smaller mintage than most issues. Because these coins are large, precious metal, monetized and really very low priced in comparison to similar coins, the issue has become widely collected by date. What makes the issue even more interesting is that some of the dates have surprisingly low mintages and can be difficult to find.

All coins come either sealed individually in plastic with the mint logo impressed in the selvage of the plastic or in tubes of 25 pieces. The sheets of 10 may be separated for single coins. Coins not in their original packaging trade at a discount. All coins are issued in BU with semi-prooflike surfaces. The 1989 is also available as a proof commemorative. Silver maple leafs make excellent and popular gifts, and also continue to be one of the most attractive ways to buy one oz silver units for the investor. No matter how you slice it, silver maple leafs deserve a closer look. Special colourized and hologram Silver Maple Leaf coins are listed in the "Royal Canadian Mint" section of this website catalogue.

The silver Maple Leaf coins were originally shipped in wrapped sheets/strips of 10 coins. Recently the Mint has changed and now they are issued in tubes of 25 coins. These tubes are shipped in yellow plastic boxes of 500, often referred to as a "monster box" of silver Maple Leaf coins.

These are bullion coins. For current buying and selling prices, ordering and selling instructions, a Frequently Asked Question List, and useful forms, please visit our comprehensive Bullion Coins and Bars website, updated M-F (www.bullioncoinsandbars.com).


| | | |
| --- | --- | --- |
| Year | Mintage | Price |
| 1967 Maple Leaf Medal | | On Request |
| 1988 | 1,062,000 | On Request |
| 1989 | 3,332,200 | On Request |
| 1989 Proof | 30,000 | On Request |
| 1990 | 1,078,800 | On Request |
| 1991 | 644,300 | On Request |
| 1992 | 343,800 | On Request |
| 1993 | 1,133,900 | On Request |
| 1994 | 889,946 | On Request |
| 1995 | 326,244 | On Request |
| 1996 | 250,445 | On Request |
| 1997 | 100,970 | On Request |
| 1998 | 591,359 | On Request |
| 1998 10 oz. Silver Maple Leaf | 13,533 | 680.00 |
| 1999 | 1,229,442 | On Request |
| 1999-2000 Dual-Dated | 298,775 | On Request |
| 2000 | 403,652 | On Request |
| 2001 | 398,563 | On Request |
| 2002 | 576,196 | On Request |
| 2003 | 684,750 | On Request |
| 2004 | 680,925 | On Request |
| 2005 | 955,694 | On Request |
| 2006 | | On Request |
| 2007 | | On Request |
| 2008 | | On Request |
| 2008 Olympic Inukshuk Silver Maple Leaf | | On Request |
| 2009 | | On Request |
| 2009 Olympic Thunderbird Silver Maple Leaf | | On Request |
| 2010 | | On Request |
| 2010 Olympic Hockey Silver Maple Leaf | To Demand | On Request |
| Complete Set 1988-2010 (24 coins includes 1999-2000) | n/a | On Request |
| Deluxe Silver Maple Leaf Case (1988 to date) Taxes Apply to This Item | n/a | 59.95 |
| Deluxe Silver Maple Leaf Capsules for above case, ea. Taxes Apply to This Item | n/a | 1.00 |