J&M Chinese Lunar Zodiac 1 oz. Silver Medallions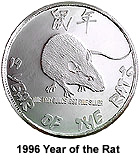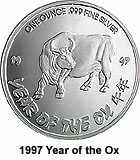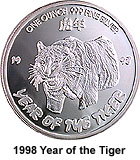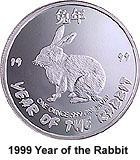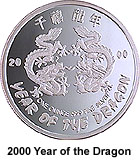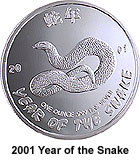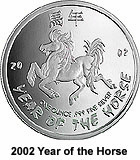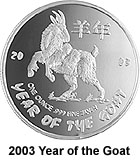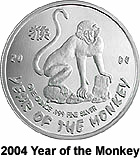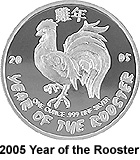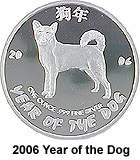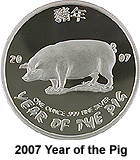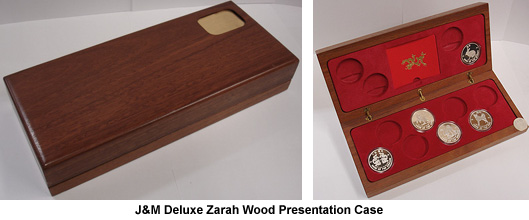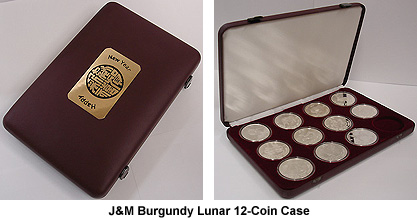 Composition: 1 Troy Ounce .999 Silver.

J&M has designed and minted an attractive series of one ounce .999 silver rounds in the popular Chinese Lunar calendar theme, starting in 1996 and running current to date. The reverse of each medallion bears the inscription 'Gung Hey Fat Choy' (Happy New Year). All medallions are struck with cameo images and mirror background and are encapsulated, numbered, and provided in an attractive black leather case. See also the Royal Canadian Mint's $15 silver and $150 gold Chinese lunar coin series.

These are bullion coins with prices subject to change in accord with the markets and without notice. Please consider these prices as a close indicator of pricing for estimation purposes only. All bullion items purchased with credit cards incur a 2% surcharge. For current buying and selling prices, ordering and selling instructions, a Frequently Asked Question List, and useful forms, please visit our comprehensive Bullion Coins and Bars website, updated M-F (www.bullioncoinsandbars.com).

Please note that this catalogue is used as both an ordering tool and the only online reference list of its kind. We do not always have every item available in every grade, nor do we have every older coin or set. However, we tend to have many items available in many grades. Rare or hard to obtain items may not be available. Anything not currently available can be located for you if you request by sending an e-mail, fax, or by calling.


| | |
| --- | --- |
| Description | Price |
| 1996 Year of the Rat | 49.88 |
| 1997 Year of the Ox | 49.88 |
| 1998 Year of the Tiger | 49.88 |
| 1999 Year of the Rabbit | 49.88 |
| 2000 Year of the Dragon | 49.88 |
| 2001 Year of the Snake | 49.88 |
| 2002 Year of the Horse | 49.88 |
| 2003 Year of the Goat | 49.88 |
| 2004 Year of the Monkey | 49.88 |
| 2005 Year of the Rooster | 49.88 |
| 2006 Year of the Dog | 49.88 |
| 2007 Year of the Pig | 49.88 |
| J&M Burgundy 12-Coin Case | 31.88 |
| J&M Deluxe Zarah Wood 12-Coin Presentation Case | 89.95 |
| Complete Set of 12 in Burgundy Case | 588.88 |
| Complete Set of 12 in Zarah Wood Presentation Case | 628.88 |