| | |
| --- | --- |
| Products | |
Olympic Coins and Merchandise
Calgary Olympic Coins, 1988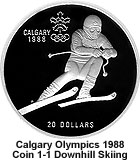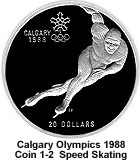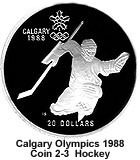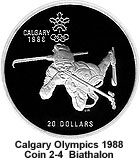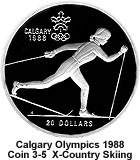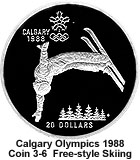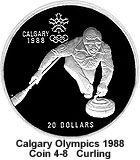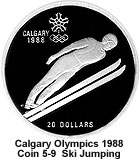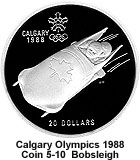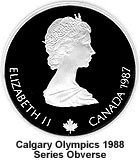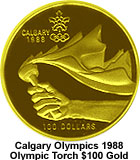 Denomination: $20 (silver) and $100 (gold); Composition: Silver coins: 92.5% silver, 7.5% copper. Gold Coin: 58.3% gold, 41.7% silver; Issued from Start of Olympic coin program in 1985 to series completion in 1987. Olympics held in 1988.

This set of coins was an adventurous program by the Government of Canada and the Royal Canadian Mint to raise funds in support of hosting the Calgary Winter Olympics and giving aid to those Canadians participating in the games. The series was largely sold by subscription, with the public being asked to pay in advance and receive two coins every few months. The set was a little cheaper to buy this way and also came in a free 11-coin case. Those who did not wish to pay in advance could also order whichever coins they wanted at full price and received their coins in individual boxes.

The coins were the first in Canada to have lettering impressed into the edge of the coin, and many of the coins are known to exist without this lettering. All types are quite rare and command high prices when available. The coins issues towards the end of the series are considerably scarcer as for one reason or another many purchasers did not complete their sets.

The coins were available on the Olympics site itself in Calgary, leading to very high sales of the One Hundred Dollar Coin. The coins depict athletes engaged in their respective sporting events, with the One Hundred Dollar showing the Olympic Torch. Many persons are mislead by the 1988 date shown prominently on the face of the $100 coin. The 1987 date is shown on the obverse, with other text.

Silver and gold coin prices subject to change in accord with the markets and without notice. Please consider these prices as a close indicator of pricing for estimation purposes only. All bullion items purchased with credit cards incur a 3% surcharge. Please see J&M's daily rates for these coins on our Bullion Coins and Bars website, updated M-F (www.bullioncoinsandbars.com).

Please note that this catalogue is used as both an ordering tool and the only online reference list of its kind. We do not always have every item available in every grade, nor do we have every older coin or set. However, we tend to have many items available in many grades. Rare or hard to obtain items may not be available. Anything not currently available can be located for you if you request by sending an e-mail, fax, or by calling.


| | | |
| --- | --- | --- |
| Description | Mintage | Price |
| Series I 1985 - $20 Downhill Skiing | 406,360 | 49.00 |
| Series I 1985 - $20 Downhill Skiing, No Edge Lettering | Incl. Above | 750.00 |
| Series I 1985 - $20 Speed Skating | 354,222 | 49.00 |
| Series II 1986 - $20 Speed Skating, No Edge Lettering | Incl. Above | 750.00 |
| Series II 1986 - $20 Ice Hockey | 396,602 | 49.00 |
| Series II 1986 - $20 Ice Hockey, No Edge Lettering | Incl. Above | 750.00 |
| Series II 1986 - $20 Biathlon | 308,086 | 49.00 |
| Series II 1986 - $20 Biathalon, No Edge Lettering | Incl. Above | 750.00 |
| Series III 1986 - $20 Cross-Country Skiing | 303,199 | 49.00 |
| Series III 1986 - $20 Cross Country Skiing, No Edge Lettering | Incl. Above | 750.00 |
| Series III 1986 - $20 Free Style Skiing | 294,322 | 49.00 |
| Series III 1986 - $20 Free Style Skiing, No Edge Lettering | Incl. Above | 750.00 |
| Series IV 1987 - $20 Figure Skating | 334,875 | 49.00 |
| Series IV 1987 - $20 Figure Skating, No Edge Lettering | Incl. Above | 750.00 |
| Series IV 1987 - $20 Curling | 286,475 | 49.00 |
| Series IV 1987 - $20 Curling, No Edge Lettering | Incl. Above | 750.00 |
| Series V 1987 - $20 Ski Jump | 290,954 | 49.00 |
| Series V 1987 - $20 Ski Jump, No Edge Lettering | Incl. Above | 750.00 |
| Series V 1987 - $20 Bobsleigh | 274,326 | 49.00 |
| Series V 1987 - $20 Bobsleigh, No Edge Lettering | Incl. Above | 750.00 |
| Olympic Torch 1987 $100 Gold Coin | 145,175 | 500.00 |
| Olympic Torch 1987 $100 Gold Coin, No Edge Lettering | Incl. Above | 3,000.00 |
| Empty 10 or 11 Coin Case | | 20.00 |
| Complete 10-Coin Silver Set in Case | | 475.00 |
| Complete 11-Coin Gold and Silver Set in Case | | 970.00 |