| | |
| --- | --- |
| Products | |
Olympic Coins and Merchandise
1992 International Olympic Committee Coins (Canada Issue)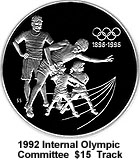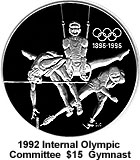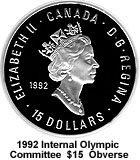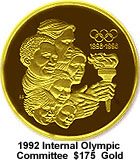 Denomination: Two coins of $15 and one coin of $175; Composition: $15 coins are 0.925 sterling silver, $175 coin is 22kt gold; Issued: 1992 only.

As part of a joint program to commemorate the 100th anniversary of the modern Olympics, five countries undertook to produce a series of commemorative coins. Canada was a participant nation in this project and was the first of the five nations to issue a coinage series. The other countries are in order of release, Australia, France, Austria and Greece. Each country issued their respective sets over a period of 5 years, annually. The images depicts athletes in various stages of participating in their sports. The Canadian issues depict also the notion of the future athlete with designs seeming making some kind of unspoken reference to the continuing future of the Olympic games.

The coins exist in proof condition only. Edge lettering is also a feature of this issue. The Royal Canadian Mint accepted subscription orders for the entire set from all the issuing countries, but generally did not sell the single sets on their own, other than Canada. The high issue price associated with this set led to sales below the anticipated levels. Conversely, this set was issued with one of the most luxurious cases ever, burgundy padded leather with plush interior. Naturally, a portion of the revenue derived from the sales of the coins was to be used for hosting Olympic events sponsored by the International Olympic Committee, so these coins are frequently referred to as "I.O.C. Coins".

Silver and gold coin prices subject to change in accord with the markets and without notice. Please consider these prices as a close indicator of pricing for estimation purposes only. All bullion items purchased with credit cards incur a 3% surcharge. Please see J&M's daily rates for these coins on our Bullion Coins and Bars website, updated M-F (www.bullioncoinsandbars.com).

Please note that this catalogue is used as both an ordering tool and the only online reference list of its kind. We do not always have every item available in every grade, nor do we have every older coin or set. However, we tend to have many items available in many grades. Rare or hard to obtain items may not be available. Anything not currently available can be located for you if you request by sending an e-mail, fax, or by calling.


| | |
| --- | --- |
| Description | Price |
| $15 Track, Single Coin, Encapsulated "Spirit of the Generations" [back in stock] | 49.95 |
| $15 Gymnast, Single Coin, Encapsulated | Sold out |
| Both Gymnast and Track $15 Coins in a Cased Set | 95.00 |
| $175 Gold International Olympic Committee Coin in Case | 1,000.00 |