| | |
| --- | --- |
| Products | |
Olympic Coins and Merchandise
Montreal Olympic Coins, 1973-1976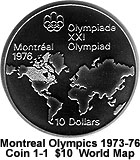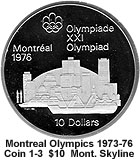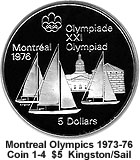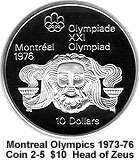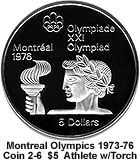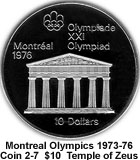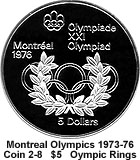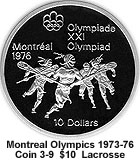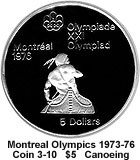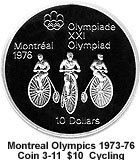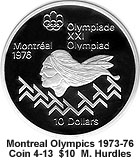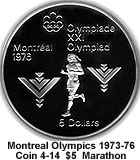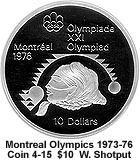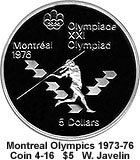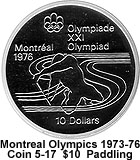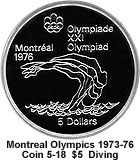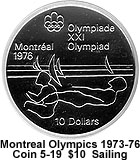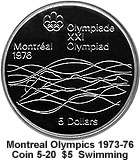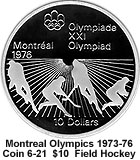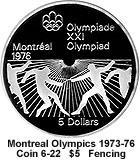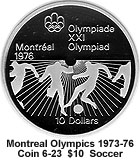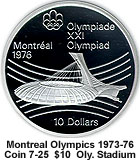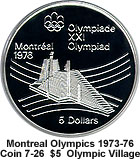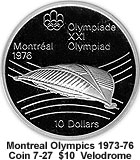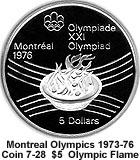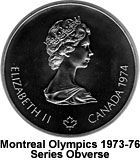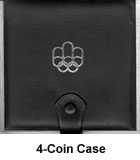 Denominations: $5, $10; Composition: 92.5% silver; Issued: A program of scheduled release beginning in 1973 and ending in 1976.

This set is by far one of the best known Royal Canadian Mint issues. It was extensively promoted both in Canada and abroad as a commemoration of the Montreal Olympic Games held in 1976. The set was extremely popular at its issue and many thousands of sets were voraciously ordered by the collecting public. The sets consists of 28 coins, 14 of $5 and 14 of $10, arranged in 7 series of 4 coins each (2 x $5 and 2 x $10). The sets were released in various forms of packaging ranging from single coin slabs to full hinged boxes to walnut cabinets with sliding trays. The coins depict different events of the Olympic games, held at venues all around Montreal and eastern Canada.

A few errors are known, including incorrect date and also coins struck in nickel instead of silver. All errors are rare in this set. The BU coins in the sets have a rather sandblasted appearance, and the proofs have the full mirror surfaces with cameo details, leading to pleasing contrast in most coins. As is the case with most scheduled release sets, the later releases are quite a bit scarcer than the earlier ones. This is due to some of the collecting public for one reason or another not completing their sets. This is particularly true of the proof issue series VI and VII.

Prices subject to change in accord with the markets and without notice. Please consider these prices as a close indicator of pricing for estimation purposes only. All bullion items purchased with credit cards incur a 3% surcharge. Please see J&M's daily rates for these coins on our Bullion Coins and Bars website, updated M-F (www.bullioncoinsandbars.com).

Please note that this catalogue is used as both an ordering tool and the only online reference list of its kind. We do not always have every item available in every grade, nor do we have every older coin or set. However, we tend to have many items available in many grades. Rare or hard to obtain items may not be available. Anything not currently available can be located for you if you request by sending an e-mail, fax, or by calling.


| | | | |
| --- | --- | --- | --- |
| Description | Mintage | BU | Proof |
| Series I 1973 - $5 North America | 543,098 | 35.00 | 37.50 |
| Series I 1973 - $5 Kingston | Incl. Above | 35.00 | 37.50 |
| Series I 1973 - $10 Montreal | 537,898 | 70.00 | 72.50 |
| Series I 1973 - $10 World Map | Incl. Above | 70.00 | 72.50 |
| Series I 1973 - $10 1973 World Map Error (1974 date) | Incl. Above | 600.00 | |
| Series I 1973 - Complete Set of All 4 Coins From Series I | Incl. Above | 205.00 | 215.00 |
| Series II 1974 - $5 Wreath | 3,981,140 | 35.00 | 37.50 |
| Series II 1974 - $5 Torch | Incl. Above | 35.00 | 37.50 |
| Series II 1974 - $10 Temple | 3,949,878 | 70.00 | 72.50 |
| Series II 1974 - $10 Zeus | Incl. Above | 70.00 | 72.50 |
| Series II 1974 - Complete Set of All 4 Coins From Series II | Incl. Above | 205.00 | 215.00 |
| Series III 1974 - $5 Canoeing | 1,990,570 | 35.00 | 37.50 |
| Series III 1974 - $5 Rowing | Incl. Above | 35.00 | 37.50 |
| Series III 1974 - $10 Cycling | 1,974,939 | 70.00 | 72.50 |
| Series III 1974 - $10 Lacrosse | Incl. Above | 70.00 | 72.50 |
| Series III 1974 - Complete Set of All 4 Coins From Series III | Incl. Above | 205.00 | 215.00 |
| Series IV 1975 - $5 Marathon | 3,970,000 | 35.00 | 37.50 |
| Series IV 1975 - $5 Javelin | Incl. Above | 35.00 | 37.50 |
| Series IV 1975 - $10 Hurdles | 4,952,433 | 70.00 | 72.50 |
| Series IV 1975 - $10 Shot Put | Incl. Above | 70.00 | 72.50 |
| Series IV 1975 - Complete Set of All 4 Coins From Series IV | Incl. Above | 205.00 | 215.00 |
| Series V 1975 - $5 Diving | 1,985,000 | 35.00 | 37.50 |
| Series V 1975 - $5 Swimming | Incl. Above | 35.00 | 37.50 |
| Series V 1975 - $10 Paddling | 2,476,216 | 70.00 | 72.50 |
| Series V 1975 - $10 Sailing | Incl. Above | 70.00 | 72.50 |
| Series V 1975 - Complete Set of All 4 Coins From Series V | Incl. Above | 205.00 | 215.00 |
| Series VI 1976 - $5 Fencing | 3,775,259 | 35.00 | 37.50 |
| Series VI 1976 - $5 Boxing | Incl. Above | 35.00 | 37.50 |
| Series VI 1976 - $10 Hockey | 3,970,514 | 70.00 | 72.50 |
| Series VI 1976 - $10 Soccer (Football) | Incl. Above | 70.00 | 72.50 |
| Series VI 1976 - Complete Set of All 4 Coins From Series VI | Incl. Above | 205.00 | 215.00 |
| Series VII 1976 - $5 Olympic Village | 1,887,629 | 35.00 | 37.50 |
| Series VII 1976 - $5 Olympic Flame | Incl. Above | 35.00 | 37.50 |
| Series VII 1976 - $10 Olympic Velodrome | 1,985,257 | 70.00 | 72.50 |
| Series VII 1976 - $10 Olympic Stadium | Incl. Above | 70.00 | 72.50 |
| Series VII 1976 - Complete Set of All 4 Coins From Series VII | Incl. Above | 205.00 | 215.00 |
| Complete 28-Coin Proof Set in 7x 4-Coin Cases | Incl. Above | | 1,080.00 |
| Complete 28-Coin BU Set in 1 Case | Incl. Above | 1,400.00 | 1,465.00 |
| Empty 28-Coin Case | n/a | 25.00 | |