| | |
| --- | --- |
| Products | |
| | |
| --- | --- |
| | Coin Collector Cards |
| | Uncirculated (Proof-Like) Sets, 1954-date |
| | Proof (Double Dollar) Sets, 1971-date |
| | Custom (Double Cent) Sets 1971-80 and Specimen Sets 1981-date |
| | Oh! Canada! and Baby Gift Sets |
| | Wedding, Graduation, Birthday, Holiday, Hockey, Quebec Carnival, Congratulations and Calendar Gift Sets |
| | Proof, Hologram, Colourized, Test Maple Leaf Coins and Sets, Lunar Zodiac and Other Fractional Sets |
| | Canadian Wildlife Platinum and Endangered Wildlife Silver Sets |
| | Medallions |
| | Other Non-Pure Sets |
| | Queen Elizabeth II Diamond Jubilee Gold and Silver 3-Coin Sets |
| | 1-Cent Coins and Sets |
| | 3-Cent Coins and Sets |
| | 5-Cent Coins and Sets |
| | 10-Cent Coins and Sets |
| | 25-Cent Coins and Sets |
| | 50-Cent Coins and Sets |
| | $1 Coins, Silver |
| | $1 Coins, Nickel |
| | $1 Coins and Sets, Loon and Louis |
| | $2 Coins and Sets |
| | $3 Coins and Sets |
| | $4 Coins and Sets |
| | $5 Coins and Sets |
| | $8 Coins and Sets |
| | $10 Coins and Sets |
| | $15 Coins and Sets |
| | $20 Coins and Sets |
| | $25 Coins and Sets |
| | $30 Coins and Sets |
| | $50 Coins and Sets |
| | $75 Coins and Sets |
| | $100 Coins and Sets |
| | $125 Coins and Sets |
| | $150 Coins and Sets |
| | $175 Coins and Sets |
| | $200 Coins and Sets |
| | $250 Coins and Sets |
| | $300 Coins and Sets |
| | $350 Coins and Sets |
| | $500 Coins and Sets |
| | $1000 Coins and Sets |
| | $1250 Coins and Sets |
| | $2500 Coins and Sets |
$1 Coins, Silver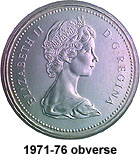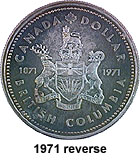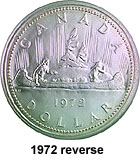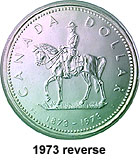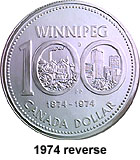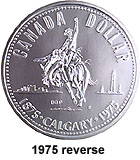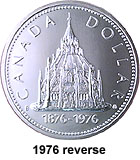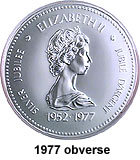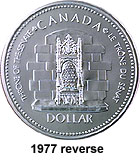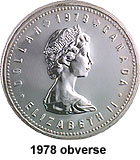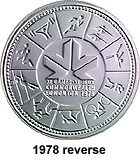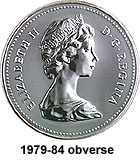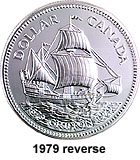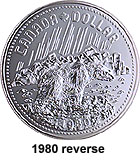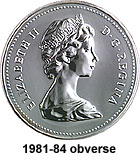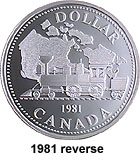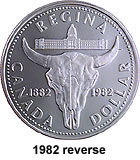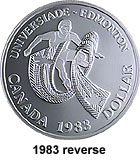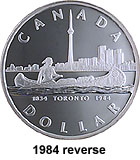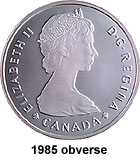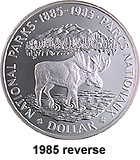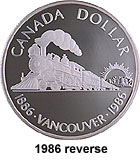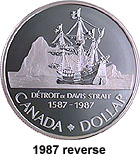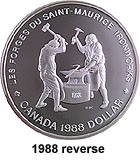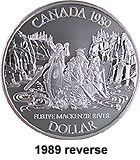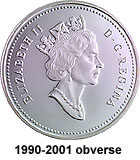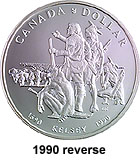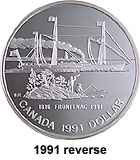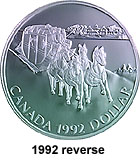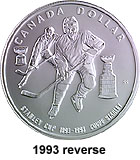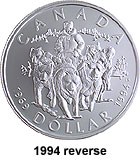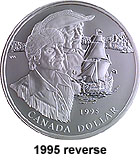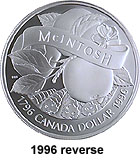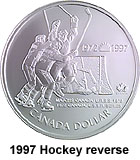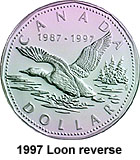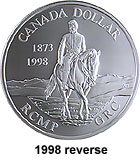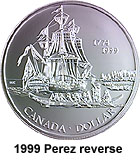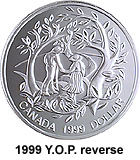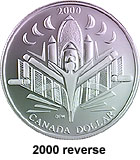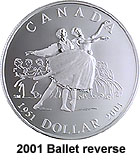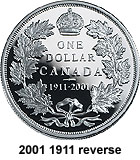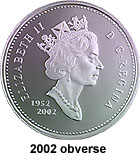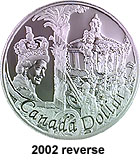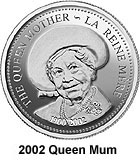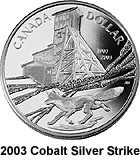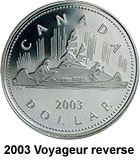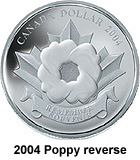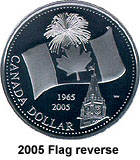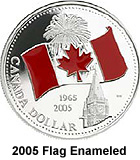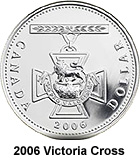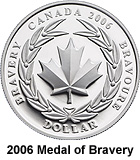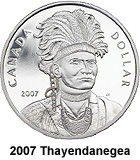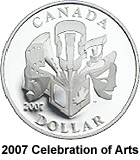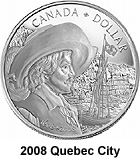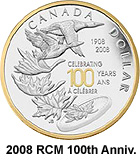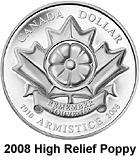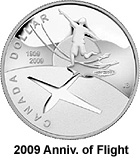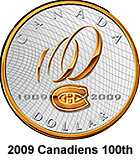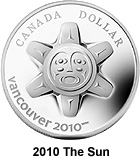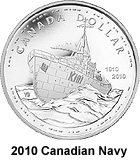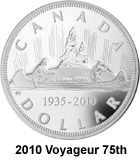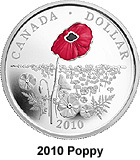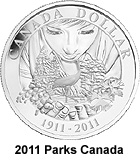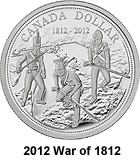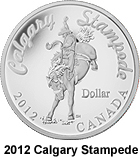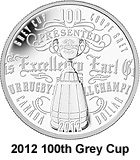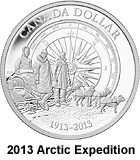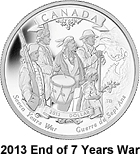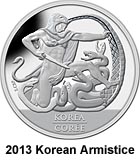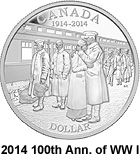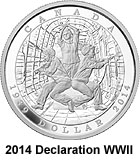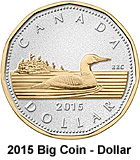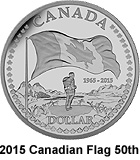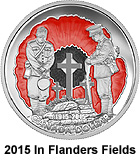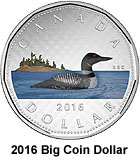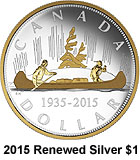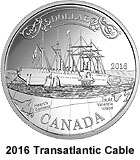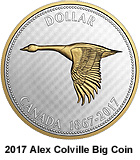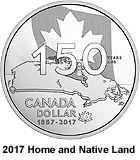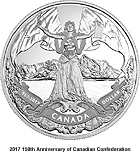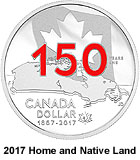 Composition: 50% silver, 50% copper to 1991; 92.5% silver and 7.5% copper from 1992 to 2002; 99.99% silver from 2003 to date. Issued: From 1971 to date with a BU (brilliant uncirculated) finish and from 1981 to date in Proof finish.

The annual commemorative silver dollar release is one of Canada's most important annual numismatic events. The issues are eagerly awaited each spring, and has formed the foundation of Canada's numismatic program since its inception in 1971. Each year, a special topic of interest to Canadians is selected for commemoration. Usually the topics involve important Canadian anniversaries, and to look upon a set of commemorative silver dollars is to look upon the most important achievements.

These coins were issued in proof quality up to 1980, and thereafter with the Proof cameo finish. This is one of the most purchased elements of the years numismatic issues, but there are some low mintage years.

The designs on the 1981 to date BU coins are identical to their Proof counterparts, the only differences being that the Brilliant Uncirculated silver dollars lack the cameo frosted finish which gives proof coins such high contrast and the coin comes packaged in a two inch square plastic slab instead of a leather case. Newer years come in boxes.

Customarily, the BU coins are issued at a lower price than the Proof version, and also a lower mintage and lower resale price.

The entire Canadian commemorative dollar series is very popular worldwide, especially in Europe.

Please note that this catalogue is used as both an ordering tool and the only online reference list of its kind. We do not always have every item available in every grade, nor do we have every older coin or set. However, we tend to have many items available in many grades. Rare or hard to obtain items may not be available. Anything not currently available can be located for you if you request by sending an e-mail, fax, or by calling.


| | | | | | |
| --- | --- | --- | --- | --- | --- |
| Year | Description | Proof Mintage | BU Mintage | Proof Price | BU Price |
| 1971 | Centenary of BC Joining Confederation | 585,217 | | 14.00 | |
| 1972 | Voyageurs and Canoe | 341,581 | | 18.00 | |
| 1873-1973 | Centenary of Formation of RCMP | 904,723 | | 15.00 | |
| 1874-1974 | Centenary of Founding of Winnipeg | 628,183 | | 14.00 | |
| 1875-1975 | Centenary of Founding of Calgary | 833,095 | | 14.00 | |
| 1876-1976 | Centenary of Opening of Library of Parliament | 483,722 | | 16.00 | |
| 1952-1977 | 25th Anniversary of Queen Elizabeth II's Reign (Silver Jubilee) | 744,848 | | 14.00 | |
| 1978 | 11th Commonwealth Games in Edmonton | 640,000 | | 12.00 | |
| 1679-1979 | The Griffon, 1st Voyage by a Commercial Ship on the Great Lakes | 688,671 | | 18.00 | |
| 1980 | Canadian Arctic/Polar Bear | 389,564 | | 22.00 | |
| 1981 | Trans-Continental Railroad | 353,742 | 148,647 | 20.00 | 16.00 |
| 1882-1982 | Centenary of Regina | 577,959 | 144,989 | 13.00 | 12.00 |
| 1983 | Universiade - University Games in Edmonton | 340,068 | 159,450 | 13.00 | 12.00 |
| 1983 Medal | Royal Wedding of Charles and Diana [22.00] | Incl. Above | | Sold out | |
| 1834-1984 | 150th Anniversary of Toronto | 571,079 | 133,563 | 14.00 | 18.00 |
| 1885-1985 | Centenary of Canadian National Parks | 537,297 | 162,873 | 14.00 | 12.00 |
| 1886-1986 | Centenary of the Completion of the Railroad at Vancouver | 496,418 | 124,574 | 15.00 | 18.00 |
| 1587-1987 | 400th Anniversary of John Davis and the Davis Strait | 259,230 | 118,722 | 20.00 | 16.00 |
| 1988 | St. Maurice Ironworks | 259,230 | 160,702 | 22.00 | 20.00 |
| 1989 | Mackenzie River Exploration | 272,319 | 110,650 | 25.00 | 22.00 |
| 1690-1990 | Henry Kelsey and Plains | 222,983 | 85,703 | 25.00 | 16.00 |
| 1816-1991 | The Steamer Frontenac, First Steamship on the Great Lakes | 222,892 | 82,642 | 28.00 | 16.00 |
| 1992 | Kingston to York Stage Coach | 187,612 | 78,160 | 32.00 | 30.00 |
| 1893-1993 | Centenary of the Stanley Cup | 294,314 | 88,150 | 32.00 | 32.00 |
| 1969-1994 | Last RCMP Dog Sled Patrol | 178,406 | 65,295 | 38.00 | 32.00 |
| 1995 | 325th Anniversary of the Founding of the Hudson | 166,259 | 61,819 | 30.00 | 30.00 |
| 1796-1996 | 200th Anniversary of John MacIntosh | 133,779 | 58,834 | 38.00 | 32.00 |
| 1972-1997 | 1972 Canada-Russia Hockey Series | 184,965 | 155,252 | 38.00 | 30.00 |
| 1987-1997 | Flying Loon | 24,995 | | 99.95 | |
| 1873-1998 | 125 Years of the RCMP | 120,172 | 79,777 | 30.00 | 30.00 |
| 1774-1999 | Voyage of Juan Perez, Sighting of the Queen Charlotte Islands | 120,896 | 63,881 | 38.00 | 30.00 |
| 1999 | International Year of Older People | 22,866 | | 50.00 | |
| 2000 | Millennium - Voyage of Discovery | 121,575 | 61,819 | 38.00 | 30.00 |
| 1951-2001 | 50th Anniversary of the National Ballet | 89,390 | 46,792 | 32.00 | 30.00 |
| 1911-2001 | Replica of 1911 Silver Dollar Design [74.95] | 24,996 | | Sold out | |
| 1952-2002 | 50th Anniversary of the Ascention to the Throne of Queen Elizabeth II | 121,642 | 75,000 | 38.00 | 36.00 |
| 2002 | The Queen Mother | 10,000 | | 249.95 | |
| 1903-2003 | Centenary of Largest Silver Strike at Cobalt, Ontario | 51,130 | 88,563 | 38.00 | 36.00 |
| 2003 | Voyageurs with Canoe | 29,586 | | 38.00 | |
| 1604-2004 | 400th Anniversary of Ile. St. Croix Colony (First French Settlement) [2 proof coins available] | 42,582 | 106,974 | 59.95 | 36.00 |
| 1604-2004 | Ile. St Croix Coin and Stamp Set - Includes France Silver 1/4 Euro and Two Stamps in Chest/Box | | | 125.00 | |
| 2004 | The Poppy | 24,527 | | 59.95 | |
| 1965-2005 | 40th Anniversary of the Canadian Flag [2 proof coins available] | 52,556 | 94,039 | 54.95 | 36.00 |
| 1965-2005 | Selectively Enameled (Colourised) Limited Edition Canadian Flag [200.00] | 5,000 | | Sold out | |
| 2006 | The Victoria Cross [1 available; 1 other available no certificate--ask for $10 off in the comments box] | | | 54.95 | 36.00 |
| 2006 | Medal of Bravery [60.00 PF] | | | Sold out | N/A |
| 2006 | Medal of Bravery Enameled | 5,000 | | 199.95 | |
| 2007 | Thayendanegea (1742-1807) [2 proof coins available] | 65,000 | 35,000 | 54.95 | [36] |
| 2007 | Celebration of the Arts Sterling Silver [194.95] | 20,000 | | Sold out | |
| 2007 | Thayendanegea (1742-1807) Enamel Effect [limited quantity] | 7,500 | | 129.95 | |
| 2008 | 400th Anniversary of Quebec City [2 proof coins available] | 65,000 | 35,000 [36.00] | 55.00 | Sold Out |
| 2008 | 100th Anniversary of the RCM, Selective Gold Plating [129.95] | 25,000 | | Sold out | |
| 2008 | Limited Edition Ultra High Relief Poppy Proof Coin | 5,000 | | Sold Out | |
| 2009 | 100th Anniversary of Flight in Canada [2 available] | 50,000 | 30,000 | 54.95 | [39.95] |
| 2009 | 100th Anniversary of the Montreal Canadiens [169.95] | 15,000 | | Sold out | |
| 2009 | 100th Anniversary of the Montreal Canadiens with Special Display Stand [1 available in full packaging with non-original capsule] | Incl. Above | | 169.95 | |
| 2010 | Limited Edition The Sun [225] | 5,000 | | Sold out | |
| 2010 | 100th Anniversary of the Canadian Navy | 50,000 | 30,000 | 60.00 | [46.95] |
| 1935-2010 | 75th Anniversary of the Voyageur Silver Dollar Design [89.95] | 7,500 | | Sold Out | |
| 2010 Selectively Colourised Poppy proof silver dollar [179.95] | | 5,000 | | Sold out | |
| 2011 | 100th Anniversary of Parks Canada [1 proof coin available] | 40,000 | 25,000 | 59.95 | 49.95 |
| 2011 | 100th Anniversary of the Striking of Canada's 1911 Silver Dollar | 15,000 | | 64.95 | |
| 2012 | 200th Anniversary of the War of 1812 | 40,000 | 25,000 | 59.95 | 54.95 |
| 2012 | Calgary Stampede [74.95] | 10,000 | N/A | Sold out | |
| 2012 | The 100th Grey Cup [79.95] | 10,000 | | Sold out | |
| 1913-2013 | 100th Anniversary of the Canadian Arctic Expedition [1 proof coin available] | 40,000 | 20,000 | 59.95 | [54.95] |
| 2013 | 250th Anniversary of the End of the Seven Years War | 10,000 | | 69.95 | |
| 2013 | 60th Anniversary of the Korean Armistice Agreement [69.95] | 10,000 | | Sold out | |
| 2014 | 100th Anniversary of the Declaration of World War I | 40,000 - Sold out | 20,000 | [59.95] | 36.00 |
| 2014 | 75th Anniversary of the Declaration of World War II [69.95] | 7,500 | | Sold out | |
| 2015 | 5 oz. Big Coin - Dollar .9999 Silver with Select Gold Plating [549.95] | 1,500 | | Sold out | |
| 2015 | 50th Anniversary of the Canadian Flag [74.95] | 20,000 | 15,000 | Sold out | N/A |
| 1915-2015 | 100th Anniversary of In Flanders Fields Coloured Coin [1 available] | 10,000 | | 79.95 | |
| 2016 | .9999 Silver Big Coin - Dollar [519.95] | 1,500 | | Sold out | |
| 2015 | .9999 Silver Renewed Silver Dollar [Unavailable] | 2,200 | | Unavailable | |
| 2016 | 150th Anniversary of the Transatlantic Cable [89.95] | 20,000 | | Sold out | |
| 2017 | Big Coin Series - Alex Colville Designs: $1 5 oz. Coin [559.95] | 2,150 | | Sold out | |
| 2017 | Special Edition Our Home and Native Land [64.95] | 20,000 | | Sold out | |
| 2017 | 150th Anniversary of Canadian Confederation | 30,000 | | 59.95 | |
| 2017 | Special Edition Our Home and Native Land | 10,000 | | 69.95 | |
| Deluxe Blue Velvet Silver Dollar Presentation Case | Holds 46 Silver Dollars | n/a | | 59.95 | |