| | |
| --- | --- |
| Products | |
| | |
| --- | --- |
| | Coin Collector Cards |
| | Uncirculated (Proof-Like) Sets, 1954-date |
| | Proof (Double Dollar) Sets, 1971-date |
| | Custom (Double Cent) Sets 1971-80 and Specimen Sets 1981-date |
| | Oh! Canada! and Baby Gift Sets |
| | Wedding, Graduation, Birthday, Holiday, Hockey, Quebec Carnival, Congratulations and Calendar Gift Sets |
| | Proof, Hologram, Colourized, Test Maple Leaf Coins and Sets, Lunar Zodiac and Other Fractional Sets |
| | Canadian Wildlife Platinum and Endangered Wildlife Silver Sets |
| | Medallions |
| | Other Non-Pure Sets |
| | Queen Elizabeth II Diamond Jubilee Gold and Silver 3-Coin Sets |
| | 1-Cent Coins and Sets |
| | 3-Cent Coins and Sets |
| | 5-Cent Coins and Sets |
| | 10-Cent Coins and Sets |
| | 25-Cent Coins and Sets |
| | 50-Cent Coins and Sets |
| | $1 Coins, Silver |
| | $1 Coins, Nickel |
| | $1 Coins and Sets, Loon and Louis |
| | $2 Coins and Sets |
| | $3 Coins and Sets |
| | $4 Coins and Sets |
| | $5 Coins and Sets |
| | $8 Coins and Sets |
| | $10 Coins and Sets |
| | $15 Coins and Sets |
| | $20 Coins and Sets |
| | $25 Coins and Sets |
| | $30 Coins and Sets |
| | $50 Coins and Sets |
| | $75 Coins and Sets |
| | $100 Coins and Sets |
| | $125 Coins and Sets |
| | $150 Coins and Sets |
| | $175 Coins and Sets |
| | $200 Coins and Sets |
| | $250 Coins and Sets |
| | $300 Coins and Sets |
| | $350 Coins and Sets |
| | $500 Coins and Sets |
| | $1000 Coins and Sets |
| | $1250 Coins and Sets |
| | $2500 Coins and Sets |
Oh! Canada! and Baby Gift Sets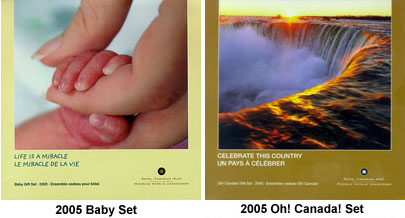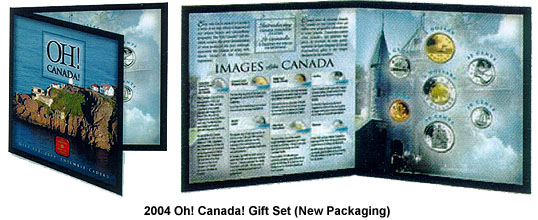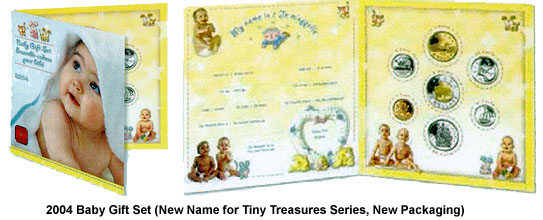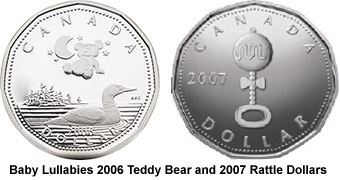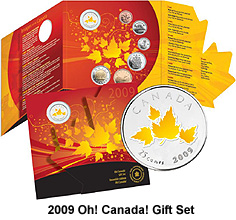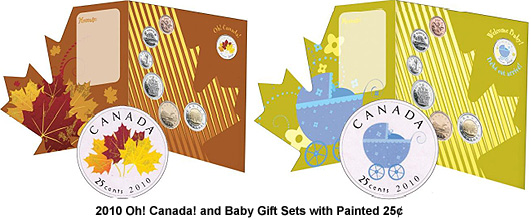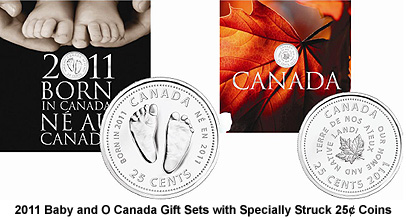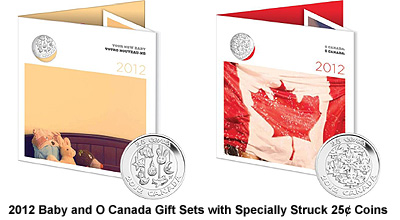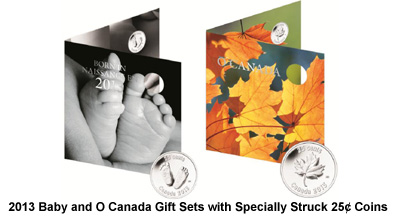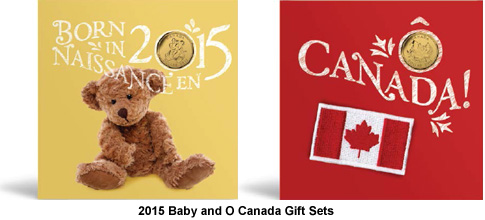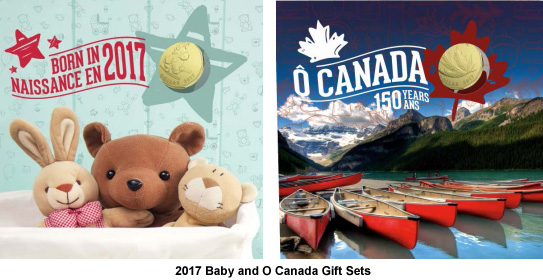 Denomination: Mixed sets containing 1 cent to 1 dollar (up to 1996) and including the $2 from 1997 onwards; Issued: 1994 to date, one of each set per year; Composition: Standard issue coinage metals of nickel and aureate brass as per circulation coins.

These sets were first issued as gift items. The Oh! Canada! is primarily intended for the tourist to Canada, as it is housed in a much more durable bubble pack card in a slipcase and when opened gives a short blurbs of information about things in Canada with pictures. The six standard circulation coins are contained in the set -- sets minted from 1997 on also contain the $2 coin. High quality specially struck examples of our coinage is used for these sets. 1997 sets also contain the "Loon in Flight" coin, which is unavailable in general circulation and makes this set a must own for type collectors.

The Bundle of Joy (Tiny Treasures) set, not surprisingly, is primarily intended for gift giving to mark the arrival of a new infant during the year of issue of the set. The set is attractively packaged in a sturdy bubble pack card. Inside the pack are various papers inside which you can record things about the baby on, and in some sets there is a special offer from the mint where you can send away for special bonuses. Again, the coins in the set are specially struck examples, similar in appearance to a specimen quality coin. The sets contain the six standard circulating coins, and beginning in 1997 also contain the $2 coin. The 1998 Tiny Treasures set is a replacement for the Bundle of Joy sets from 1997 and onwards. There is a mail-in card to register your child to the RCM birthday list. Your child will receive a gift on their next birthday.

New for 2006 and 2007 is the Baby's Lullabies music CD and silver coin set that includes a special silver loon dollar featuring a teddy bear. There is also a silver Proof coin set and a pair of keepsake tins that includes a special silver loon dollar.

Please note that this catalogue is used as both an ordering tool and the only online reference list of its kind. We do not always have every item available in every grade, nor do we have every older coin or set. However, we tend to have many items available in many grades. Rare or hard to obtain items may not be available. Anything not currently available can be located for you if you request by sending an e-mail, fax, or by calling.


| | | |
| --- | --- | --- |
| Year | Mintage | Price |
| 1994 Oh! Canada! | 18,794 | 12.00 |
| 1995 Oh! Canada! | 50,927 | 12.00 |
| 1996 Oh! Canada! [limited quantity] | 31,083 | 19.95 |
| 1997 Oh! Canada! | 84,124 | 39.00 |
| 1998 Oh! Canada! | 42,710 | 19.95 |
| 1998 W Oh! Canada! | 24,792 | 25.00 |
| 1999 Oh! Canada! | 82,754 | 12.00 |
| 2000 Oh! Canada! | 107,884 | 12.00 |
| 2000W Oh! Canada! [24.00] | Incl. Above | Sold out |
| 2001P Oh! Canada! | 66,726 | 16.00 |
| 1952-2002 P Oh! Canada! | 61,484 | 16.00 |
| 2003 P Oh! Canada! | 50,762 | 20.00 |
| 2004 P Oh! Canada! | 53,111 | 19.95 |
| 2005 P Oh! Canada! | 41,802 | 14.95 |
| 2006 P Oh! Canada! | To Demand | 19.95 |
| 2007 P Oh! Canada! with Painted Maple Leaf 25¢ Coin [19.95] | To Demand | Sold Out |
| 2008 P Oh! Canada! with Painted Canadian Flag 25¢ Coin [19.95] | To Demand | Sold Out |
| 2009 P Oh! Canada! [19.95] | To Demand | Sold out |
| 2010 P Oh! Canada! [19.95] | To Demand | Sold out |
| 2011 O Canada Gift Set [19.95] | None Listed | Sold out |
| 2012 O Canada Gift Set | Produced to Demand | 19.95 |
| 2013 O Canada Gift Set | Produced to Demand | 19.95 |
| 2014 O Canada Gift Set | While Supplies Last [19.95] | Special Order Only |
| 2016 O Canada Gift Set | While supplies last | 19.95 |
| 2017 O Canada Gift Set | While Supplies Last | 19.95 |
| 1995 Bundle of Joy [20] | 36,433 | Sold out |
| 1996 Bundle of Joy | 56,618 | 20.00 |
| 1997 Bundle of Joy [19.95] | 55,199 | Sold out |
| 1998 Tiny Treasures [19.95] | 46,139 | Sold out |
| 1998W Tiny Treasures | 12,625 | 25.00 |
| 1999 Tiny Treasures | 67,694 | 15.00 |
| 2000 Tiny Treasures | 82,964 | 15.00 |
| 2000W Tiny Treasures | Incl. Above | 25.00 |
| 2001 P Tiny Treasures | 52,085 | 20.00 |
| 1952-2002 P Tiny Treasures [20] | 51,491 | Sold out |
| 2003 P Tiny Treasures [22.95] | 43,252 | Sold out |
| 2004 P Baby [1 available] | 53,726 | 49.95 |
| 2005 P Baby [1 available] | 42,459 | 39.95 |
| 2006 P Baby [$19.95] | To Demand | Sold Out |
| 2007 P Baby with Painted Baby Rattle 25¢ [price not indicated] | To Demand | Sold Out |
| 2008 P Baby with Painted Teddy Bear 25¢ | To Demand | Sold Out |
| 2009 P Baby with Painted 25¢ Coin [price not indicated] | To Demand | Sold Out |
| 2010 P Baby with Painted 25¢ Coin [19.95] | To Demand | Sold out |
| 2011 Baby Gift Set [19.95] | None Listed | Sold Out |
| 2012 Baby Gift Set | Produced to Demand | 19.95 |
| 2013 Baby Gift Set [19.95] | Produced to Demand | Sold out |
| 2014 Baby Gift Set [19.95] | While Supplies Last | Sold out |
| 2015 Baby Gift Set [24.95] | To Demand | Sold out |
| 2016 Baby Gift Set | While supplies last | 19.95 |
| 2017 Baby Gift Set | While Supplies Last | 19.95 |
| 2006 Baby Lullabies Music CD and Silver Teddy Bear Loon $1 [29.95] | To Demand | Sold Out |
| 2007 Baby Lullabies Music CD and Silver Baby Rattle Loon $1 [2 available; sealed] | To Demand | 149.95 |
| 2008 Baby Lullabies Music CD and Silver Coloured Loon $1 [179.95] | To Demand | Sold out |
| 2006 Baby Keepsake Tins with Silver Teddy Bear Loon $1 [34.95] | To Demand | Sold Out |
| 2007 Baby Keepsake Tins with Silver ABC Blocks Loon $1 | To Demand | Sold Out |
| 2008 Baby Keepsake Tins with Silver Coloured Loon $1 [69.95] | To Demand | Sold Out |
| 2006 Baby Sterling Silver Proof Set [79.95] | To Demand | Sold Out |
| 2007 Baby Sterling Silver Proof Set [89.95] | To Demand | Sold Out |
| 2008 Baby Sterling Silver Proof Set [199.95] | To Demand | Sold Out |
| 2007 1 oz. .9999 Silver Baby Wafer [49.95] | Unlimited | Sold Out |