| | |
| --- | --- |
| Products | |
| | |
| --- | --- |
| | Coin Collector Cards |
| | Uncirculated (Proof-Like) Sets, 1954-date |
| | Proof (Double Dollar) Sets, 1971-date |
| | Custom (Double Cent) Sets 1971-80 and Specimen Sets 1981-date |
| | Oh! Canada! and Baby Gift Sets |
| | Wedding, Graduation, Birthday, Holiday, Hockey, Quebec Carnival, Congratulations and Calendar Gift Sets |
| | Proof, Hologram, Colourized, Test Maple Leaf Coins and Sets, Lunar Zodiac and Other Fractional Sets |
| | Canadian Wildlife Platinum and Endangered Wildlife Silver Sets |
| | Medallions |
| | Other Non-Pure Sets |
| | Queen Elizabeth II Diamond Jubilee Gold and Silver 3-Coin Sets |
| | 1-Cent Coins and Sets |
| | 3-Cent Coins and Sets |
| | 5-Cent Coins and Sets |
| | 10-Cent Coins and Sets |
| | 25-Cent Coins and Sets |
| | 50-Cent Coins and Sets |
| | $1 Coins, Silver |
| | $1 Coins, Nickel |
| | $1 Coins and Sets, Loon and Louis |
| | $2 Coins and Sets |
| | $3 Coins and Sets |
| | $4 Coins and Sets |
| | $5 Coins and Sets |
| | $8 Coins and Sets |
| | $10 Coins and Sets |
| | $15 Coins and Sets |
| | $20 Coins and Sets |
| | $25 Coins and Sets |
| | $30 Coins and Sets |
| | $50 Coins and Sets |
| | $75 Coins and Sets |
| | $100 Coins and Sets |
| | $125 Coins and Sets |
| | $150 Coins and Sets |
| | $175 Coins and Sets |
| | $200 Coins and Sets |
| | $250 Coins and Sets |
| | $300 Coins and Sets |
| | $350 Coins and Sets |
| | $500 Coins and Sets |
| | $1000 Coins and Sets |
| | $1250 Coins and Sets |
| | $2500 Coins and Sets |
5-Cent Coins and Sets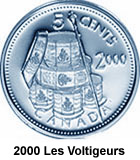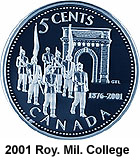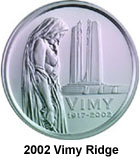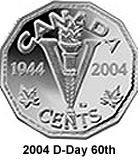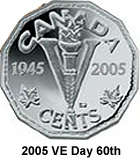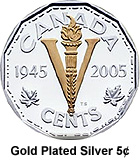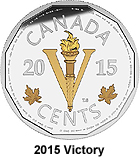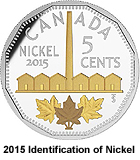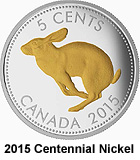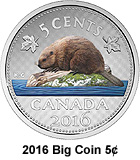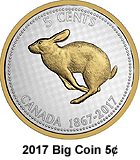 Denomination: 5-Cents, Composition: 92.5% silver, 7.5% copper (2005 Annual Report version selectively plated with gold); Weight: 5.3 grams; Diameter: round 21.3, 12-sided 21.3 mm mm, Thickness: 1.85 mm, Edge: Plain, Finish: Proof, Mintage: varies by year of issue (see below)

Starting in 2000 the RCM has issued a series of 5-cent silver proof coins with a military theme. The first celebrates Les Voltigeurs de Quebec, the 2001 is a tribute to the Royal Military College, 2002 remembers the Battle For Vimy Ridge, and in 2004 and 2005 are the 60th anniversary commemoratives for the launching of WWII's D-Day offensive and the VE day celebrations a year later. The 2004 coin comes in a set with a bronze medallion and CD of images from WWII, the 2005 coin also includes a bronze medallion and is sold in a metal colletible tin case. Also available is the selectively gold plated 2005 issue that is included with the Royal Canadian Mint's Annual Report.

Please note that this catalogue is used as both an ordering tool and the only online reference list of its kind. We do not always have every item available in every grade, nor do we have every older coin or set. However, we tend to have many items available in many grades. Rare or hard to obtain items may not be available. Anything not currently available can be located for you if you request by sending an e-mail, fax, or by calling.


| | | |
| --- | --- | --- |
| Description | Mintage | Price |
| 2000 Les Voltigeurs de Quebec | 34,024 | 10.00 |
| 1876-2001 125th Anniversary of the Royal Military College | 25,834 | 10.00 |
| 1917-2002 85th Anniversary of the Battle for Vimy Ridge [24.95] | 22,646 | Sold out |
| 1944-2004 60th Anniversary of D-Day | 20,019 | 30.00 |
| 1945-2005 60th Anniversary of VE Day | 42,792 | 30.00 |
| 2005 5-Cent with Selective Gold Plating with RCM Annual Report | 12,000 | Sold Out |
| 2015 .9999 Silver with Selective Gold Plating Legacy of the Canadian Nickel - The Victory Coin [109.95] | 8,500 | Sold out |
| 2015 .9999 Silver with Selective Gold Plating Legacy of the Canadian Nickel - The Identification of Nickel [109.95] | 8,500 | Sold out |
| 2015 .9999 Silver with Selective Gold Plating Legacy of the Canadian Nickel - The Centennial 5-Cent Coin [109.95] | 5,500 | Sold out |
| 2016 .9999 Silver Big Coin Series - 5-Cents 5 oz. Coin | 1,500 | 519.95 |
| 2017 .9999 Silver Big Coin Series - 5-Cents 5 oz. Coin | 2,150 | 559.95 |