| | |
| --- | --- |
| Products | |
| | |
| --- | --- |
| | Coin Collector Cards |
| | Uncirculated (Proof-Like) Sets, 1954-date |
| | Proof (Double Dollar) Sets, 1971-date |
| | Custom (Double Cent) Sets 1971-80 and Specimen Sets 1981-date |
| | Oh! Canada! and Baby Gift Sets |
| | Wedding, Graduation, Birthday, Holiday, Hockey, Quebec Carnival, Congratulations and Calendar Gift Sets |
| | Proof, Hologram, Colourized, Test Maple Leaf Coins and Sets, Lunar Zodiac and Other Fractional Sets |
| | Canadian Wildlife Platinum and Endangered Wildlife Silver Sets |
| | Medallions |
| | Other Non-Pure Sets |
| | Queen Elizabeth II Diamond Jubilee Gold and Silver 3-Coin Sets |
| | 1-Cent Coins and Sets |
| | 3-Cent Coins and Sets |
| | 5-Cent Coins and Sets |
| | 10-Cent Coins and Sets |
| | 25-Cent Coins and Sets |
| | 50-Cent Coins and Sets |
| | $1 Coins, Silver |
| | $1 Coins, Nickel |
| | $1 Coins and Sets, Loon and Louis |
| | $2 Coins and Sets |
| | $3 Coins and Sets |
| | $4 Coins and Sets |
| | $5 Coins and Sets |
| | $8 Coins and Sets |
| | $10 Coins and Sets |
| | $15 Coins and Sets |
| | $20 Coins and Sets |
| | $25 Coins and Sets |
| | $30 Coins and Sets |
| | $50 Coins and Sets |
| | $75 Coins and Sets |
| | $100 Coins and Sets |
| | $125 Coins and Sets |
| | $150 Coins and Sets |
| | $175 Coins and Sets |
| | $200 Coins and Sets |
| | $250 Coins and Sets |
| | $300 Coins and Sets |
| | $350 Coins and Sets |
| | $500 Coins and Sets |
| | $1000 Coins and Sets |
| | $1250 Coins and Sets |
| | $2500 Coins and Sets |
$1 Coins and Sets, Loon and Louis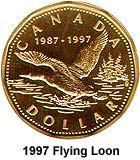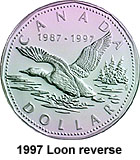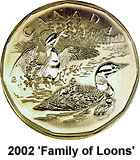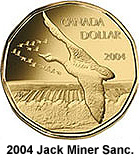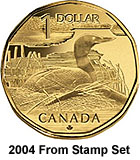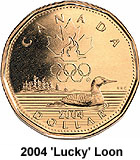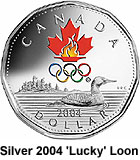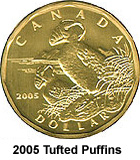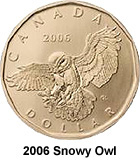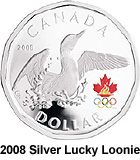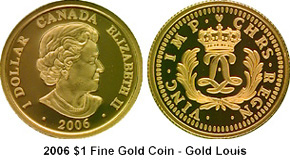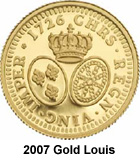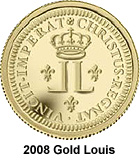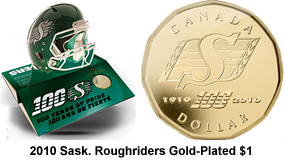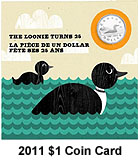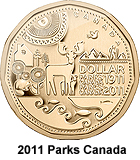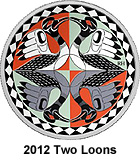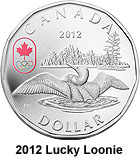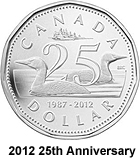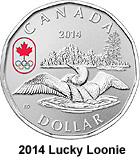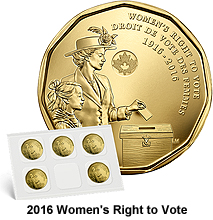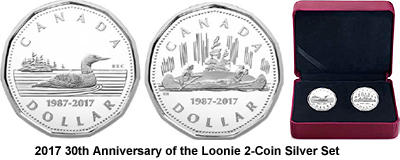 1997 Silver Flying Loon is Uncirculated. 2004 Coin and Stamp Set includes Proof Loon and two stamps, one mint and one cancelled. The Uncirculated bronze Loons are composed of nickel cores electroplated with bronze, weigh 7.0 grams, have an 11-sided diameter of 26.50 mm, and the edge is plain.
The Proof Loon is encapsulated and presented in a display case, is 92.5% silver 7.5% copper, weighs 7.0 grams, has an 11-sided diameter of 26.50 mm, with a plain edge.

At the Salt Lake City Olympic Games in 2002, a loonie brought a stroke of good fortune to Canada when our men's and women's hockey teams skated to victory over a lucky loonie secretly buried beneath centre ice. The Mint celebrates Canadian athletes with the release of two special commemoratives -- an uncirculated bronze-plated issue and a special proof, silver, colourised version. The silver version is only the second loonie ever produced in sterling silver. By purchasing the uncirculated version you're supporting Canadian Olympic Athletes through the "Go Canada, Go Olympic" program. Many recent releases of the Loon are not issued as single items and are only available in the Specimen year sets.

Please note that this catalogue is used as both an ordering tool and the only online reference list of its kind. We do not always have every item available in every grade, nor do we have every older coin or set. However, we tend to have many items available in many grades. Rare or hard to obtain items may not be available. Anything not currently available can be located for you if you request by sending an e-mail, fax, or by calling.


| | | |
| --- | --- | --- |
| Description | Mintage | Price |
| 1987-1997 (Bronze) Flying Loon | From Specimen Sets Only | 35.00 |
| 1987-1997 (Silver) Proof Flying Loon | 24,995 | 99.95 |
| 1998 (Bronze) | PL From Mint Sets | 9.00 |
| 1998 W (Bronze) | PL From Mint Sets Only | 17.95 |
| 1999 (Bronze) | PL From Mint Sets Only | 9.00 |
| 2000 (Bronze) | PL From Mint Sets Only | 9.00 |
| 2000 W (Bronze) | PL From Mint Sets Only | 10.00 |
| 2001 (Bronze) | PL From Mint Sets Only | 9.00 |
| 2002 (Bronze) Family of Loons | From Specimen Set Only | Only Available in Sets |
| 2004 (Bronze) Jack Miner Bird Sancuary | From Specimen Set Only | Only Available in Sets |
| 2004 (Bronze) Elusive Loon Coin and Stamp Set [49.95] | 12,550 | Sold out |
| 2004 (Bronze) Uncirculated Lucky Loon | | 14.95 |
| 2004 (Silver) Proof Lucky Loon [39.95] | 20,000 | Sold out |
| 2005 Official First Day Terry Fox Coin [image coming soon] | 20,000 | 19.95 |
| 2005 (Bronze) Tufted Puffins | From Specimen Set Only | Only Available in Sets |
| 2006 (Bronze) Snowy Owl | From Specimen Set Only | Only Available in Sets |
| 2006 (Bronze) Uncirculated Lucky Loon in First Day Holder [12.95] | | Sold out |
| 2006 (Bronze) Uncirculated Lucky Loon, Roll of 25 | | 40.00 |
| 2006 (Bronze) Uncirculated Lucky Loon Bookmark | | 12.95 |
| 2006 (Silver) Proof Lucky Loon | 20,000 | 39.95 |
| 2008 (.925 Silver) Proof Lucky Loon [49.95] | 30,000 | Sold out |
| 2006 .9999 Gold Louis, Replica of Coins Recovered from 1725 Cape Breton Shipwreck | 10,000 | 129.95 |
| 2007 .9999 Gold Louis, Replica of Coins Recovered from 1761 Shipwreck of the August | 10,000 | 124.95 |
| 2008 .9999 Gold Louis, Replica of Coins That Made it Safely Across the Ocean | 10,000 | 124.95 |
| 2016 100th Anniversary of Women's Right to Vote Pack of 5 Coins | | 6.50 |
| 2010 100th Anniversary of the Canadian Navy Gold Plated $1 Coin and Stamp Set [39.95] | 20,000 | Sold out |
| 2010 100th Anniversary of the Saskatchewan Roughriders Football Franchise Gold Plated $1 Coin and Set [not the pop-up helmet version shown in the image above] | While Supplies Last | 22.50 |
| 2011 25th Anniversary of the Loonie Coin Card with Silver-Plated Dual-Dated Loonie and "Build Your Own Loon" Paper Toy and Full Colour Illustrated Mini-Book Telling the Story of the Loonie [24.95] | To Demand | Sold out |
| 2011 Parks Canada Centennial $1 Circulation 5-Pack | While Supplies Last | 6.50 |
| 2012 .9999 Silver Two Loons [2 available] | 10,000 | 124.95 |
| 2012 .9999 Silver 25th Anniversary of the Loonie Coin [1 available] | 15,000 | 39.95 |
| 2012 .9999 Silver Lucky Loonie [39.95] | 20,000 | Sold out |
| 2012 Lucky Loonie 5-pack Coin Set | | 6.50 |
| 2014 .9999 Silver Lucky Loonie [39.95] | 15,000 | Sold out |
| 2016 .9999 Silver Lucky Loonie [Available in Canada Only] | 15,000 | 39.95 |
| 2016 Roll of 25 Triple-Plated Steel Lucky Loons in Special Design wrap for 2016 olympic Games in Rio [Available in Canada Only] | 52,000 rolls of 25 coins | 49.95 |
| 2016 5-Packs of Triple-Plated Steel Lucky Loons [Available in Canada Only] | | 6.50 |
| 2017 .9999 Silver 30th Anniversary of the Loonie 2-Coin Silver Set | 10,000 | 79.95 |
| 2017 .9999 Silver 30th Anniversary of the Loonie 2-Coin Gold Set | 350 | 5,499.95 |