| | |
| --- | --- |
| Products | |
| | |
| --- | --- |
| | Coin Collector Cards |
| | Uncirculated (Proof-Like) Sets, 1954-date |
| | Proof (Double Dollar) Sets, 1971-date |
| | Custom (Double Cent) Sets 1971-80 and Specimen Sets 1981-date |
| | Oh! Canada! and Baby Gift Sets |
| | Wedding, Graduation, Birthday, Holiday, Hockey, Quebec Carnival, Congratulations and Calendar Gift Sets |
| | Proof, Hologram, Colourized, Test Maple Leaf Coins and Sets, Lunar Zodiac and Other Fractional Sets |
| | Canadian Wildlife Platinum and Endangered Wildlife Silver Sets |
| | Medallions |
| | Other Non-Pure Sets |
| | Queen Elizabeth II Diamond Jubilee Gold and Silver 3-Coin Sets |
| | 1-Cent Coins and Sets |
| | 3-Cent Coins and Sets |
| | 5-Cent Coins and Sets |
| | 10-Cent Coins and Sets |
| | 25-Cent Coins and Sets |
| | 50-Cent Coins and Sets |
| | $1 Coins, Silver |
| | $1 Coins, Nickel |
| | $1 Coins and Sets, Loon and Louis |
| | $2 Coins and Sets |
| | $3 Coins and Sets |
| | $4 Coins and Sets |
| | $5 Coins and Sets |
| | $8 Coins and Sets |
| | $10 Coins and Sets |
| | $15 Coins and Sets |
| | $20 Coins and Sets |
| | $25 Coins and Sets |
| | $30 Coins and Sets |
| | $50 Coins and Sets |
| | $75 Coins and Sets |
| | $100 Coins and Sets |
| | $125 Coins and Sets |
| | $150 Coins and Sets |
| | $175 Coins and Sets |
| | $200 Coins and Sets |
| | $250 Coins and Sets |
| | $300 Coins and Sets |
| | $350 Coins and Sets |
| | $500 Coins and Sets |
| | $1000 Coins and Sets |
| | $1250 Coins and Sets |
| | $2500 Coins and Sets |
10-Cent Coins and Sets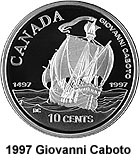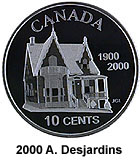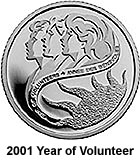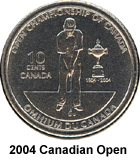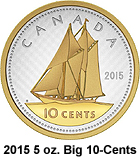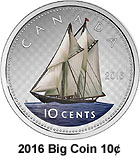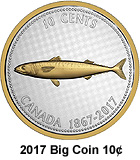 Denomination: 10-Cents; Composition 1997, 2000 and 2001: 92.5% silver, 7.5% copper; Composition 2004: Three-ply nickel; Weight 1997, 2000 and 2001: 2.4 grams; Weight 2004: 1.75 grams; Diameter 1997, 2000 and 2001: 18.0 mm; Diameter 2004: 18.03 mm; Thickness 1997, 2000 and 2001: 1.2 mm; Thickness 2004: 1.22 mm; Edge: Reeded; Finish 1997, 2000 and 2001: Proof; Finish 2004: circulation; Mintage: varies by year of issue (see below)

The 1997 Cabot Commemorative celebrates the 500th anniversary of the voyage of Giovani Caboto (aka John Cabot), who sighted "Newfoundland" in 1497 and is credited with opening North America for settlement. The 2000 Desjardins Commemorative pays tribute to Alphonse Desjardins, an extraordinary man who redefined quality of life for the working class by founding North America's first credit union. The 2001 Year of the Volunteer Commemorative celebrates the people who volunteer their time to make a difference. The 2004 issue celebrates the 100th Anniversary of the Canadian Open Golf Championship and is available in two gift sets, one that includes two round stamps and a divot repair tool, the other is a framed portrait style with a pewter medallion and a special $5 coin.

Please note that this catalogue is used as both an ordering tool and the only online reference list of its kind. We do not always have every item available in every grade, nor do we have every older coin or set. However, we tend to have many items available in many grades. Rare or hard to obtain items may not be available. Anything not currently available can be located for you if you request by sending an e-mail, fax, or by calling.


| | | |
| --- | --- | --- |
| Description | Mintage | Price |
| 1497-1997 500th Anniversary Cabot Commemorative | 49,848 | 20.00 |
| 1900-2000 100th Anniversary of Desjardins Credit Union | 69,791 | 7.00 |
| 2001 Year of the Volunteer Commemorative | 37,029 | 12.00 |
| 2004 Canada Open Golf Coin, Stamp, and Divot Tool Gift Set | 37,500 | 10.00 |
| 2004 Canada Open Golf Framed with Coins and Stamps Gift Set | 25,000 | 35.00 |
| 2015 .9999 Silver Big Coin Series - 10-Cents [549.95] | 1,500 | Sold out |
| 2016 .9999 Silver Big Coin Series - 10-Cents | 1,500 | 519.95 |
| 2017 .9999 Silver Big Coin Series - 10-Cents Alex Colville Designs | 2,150 | 559.95 |