| | |
| --- | --- |
| Products | |
| | |
| --- | --- |
| | Coin Collector Cards |
| | Uncirculated (Proof-Like) Sets, 1954-date |
| | Proof (Double Dollar) Sets, 1971-date |
| | Custom (Double Cent) Sets 1971-80 and Specimen Sets 1981-date |
| | Oh! Canada! and Baby Gift Sets |
| | Wedding, Graduation, Birthday, Holiday, Hockey, Quebec Carnival, Congratulations and Calendar Gift Sets |
| | Proof, Hologram, Colourized, Test Maple Leaf Coins and Sets, Lunar Zodiac and Other Fractional Sets |
| | Canadian Wildlife Platinum and Endangered Wildlife Silver Sets |
| | Medallions |
| | Other Non-Pure Sets |
| | Queen Elizabeth II Diamond Jubilee Gold and Silver 3-Coin Sets |
| | 1-Cent Coins and Sets |
| | 3-Cent Coins and Sets |
| | 5-Cent Coins and Sets |
| | 10-Cent Coins and Sets |
| | 25-Cent Coins and Sets |
| | 50-Cent Coins and Sets |
| | $1 Coins, Silver |
| | $1 Coins, Nickel |
| | $1 Coins and Sets, Loon and Louis |
| | $2 Coins and Sets |
| | $3 Coins and Sets |
| | $4 Coins and Sets |
| | $5 Coins and Sets |
| | $8 Coins and Sets |
| | $10 Coins and Sets |
| | $15 Coins and Sets |
| | $20 Coins and Sets |
| | $25 Coins and Sets |
| | $30 Coins and Sets |
| | $50 Coins and Sets |
| | $75 Coins and Sets |
| | $100 Coins and Sets |
| | $125 Coins and Sets |
| | $150 Coins and Sets |
| | $175 Coins and Sets |
| | $200 Coins and Sets |
| | $250 Coins and Sets |
| | $300 Coins and Sets |
| | $350 Coins and Sets |
| | $500 Coins and Sets |
| | $1000 Coins and Sets |
| | $1250 Coins and Sets |
| | $2500 Coins and Sets |
Custom (Double Cent) Sets 1971-80 and Specimen Sets 1981-date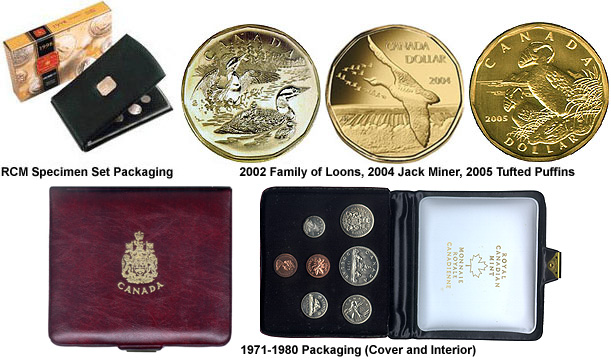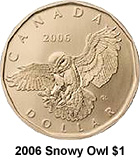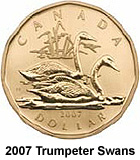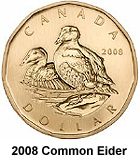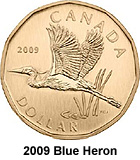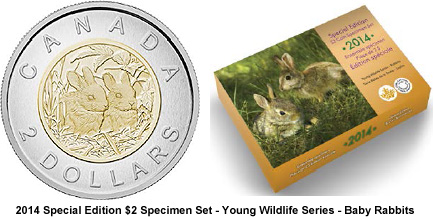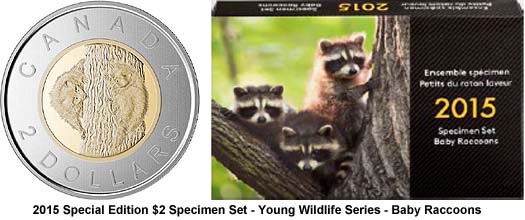 Denomination: 1 cent through $1.00; up to the $2.00 from 1997 onwards; Composition: Standard coinage metals of nickel and nickel-aureate-bronze as per circulation coins; Issued: Starting in 1858 but really got going in 1971.

These sets began as gifts for presentation purposes, and all early specimen sets up to 1970 are rare and expensive, costing anywhere from a few hundred to tens of thousands of dollars to obtain an example. For purposes of this catalogue we list only the sets from 1971 on, but we would be most pleased to quote on earlier sets where available, such as 1937, 1911, and 1908. For other specimen sets please call for availability. Sometimes single specimen coins from a set are available also.

As of 2010 the Royal Canadian Mint has issued a new series of Special Edition $2 Specimen Sets in a Young Wildlife Series. Instead of include a special $1 loon coin design, these sets will feature a special $2 coin that will only be available in these sets.

For purposes of this catalogue we are including the Double Cent or "Custom" sets in with the listing as the coins are essentially struck to specimen quality and do not overlap with the true specimen releases. Sets come either in a small vinyl box with a snap on the front with the coins resting exposed in crushed velvet, or sealed in a plastic slab or capsules and mounted in a blue vinyl book format, similar to the proof set but smaller and thinner.

Please note that this catalogue is used as both an ordering tool and the only online reference list of its kind. We do not always have every item available in every grade, nor do we have every older coin or set. However, we tend to have many items available in many grades. Rare or hard to obtain items may not be available. Anything not currently available can be located for you if you request by sending an e-mail, fax, or by calling.


| | | |
| --- | --- | --- |
| Year | Mintage | Price |
| 1971 [9.95] | 33,517 | Sold out |
| 1972 | 38,198 | 9.95 |
| 1973 | 49,376 | 7.95 |
| 1973 Large Bust | Incl. Above | 275.00 |
| 1974 | 44,296 | 7.95 |
| 1975 Double Cent Set [not specified for attached or detached] | 36,851 | 7.95 |
| 1975 Detached Jewel [9.95] | Incl. Above | Sold out |
| 1976 | 28,162 | 9.95 |
| 1977 [not specified for SWL or regular] | 44,198 | 7.95 |
| 1977 Short Water Line [15.95] | Incl. Above | Sold out |
| 1978 [square jewels] | 41,000 | 7.95 |
| 1978 Round Jewel [19.95] | Incl. Above | Sold out |
| 1979 | 31,174 | 7.95 |
| 1980 [7.95] | 41,447 | Sold out |
| 1981 | 71,300 | 7.95 |
| 1982 [1 available without certificate] | 62,298 | 7.95 |
| 1983 [7.95] | 60,329 | Sold out |
| 1984 | 60,030 | 7.95 |
| 1985 | 61,533 | 7.95 |
| 1986 | 67,152 | 7.95 |
| 1987 | 74,441 | 10.00 |
| 1988 | 70,205 | 8.95 |
| 1989 | 66,855 | 10.95 |
| 1990 | 76,611 | 10.95 |
| 1991 | 68,552 | 35.00 |
| 1992 | 78,328 | 20.00 |
| 1993 | 73,351 | 12.00 |
| 1994 | 75,973 | 12.00 |
| 1995 | 77,326 | 12.00 |
| 1996 | 62,125 | 28.00 |
| 1997 | 97,595 | 35.00 |
| 1998 [15.00] | 63,374 | Sold out |
| 1999 | 45,104 | 20.00 |
| 1999 $2 Nunavut | | 25.00 |
| 2000 | 81,581 | 19.95 |
| 2000 Path of Knowledge [4 available without boxes] | Incl. Above | 24.95 |
| 2001 P | 54,613 | 20.00 |
| 1952-2002 P with Family of Loons Dollar [3 available] | 67,672 | 39.95 |
| 2003 P [3 available, all without outer boxes--ask for $5 off in the comments box] | 41,640 | 39.95 |
| 2004 P with Flock of Geese (Jack Miner Bird Sanctuary) Loon Dollar [3 available] | 46,493 | 49.95 |
| 2005 P with Tufted Puffins Loon Dollar [2 available] | 39,908 | 54.95 |
| 2006 P with Snowy Owl Loon Dollar [49.95] | 40,000 | Sold out |
| 2007 P with Trumpeter Swans Loon Dollar [1 available] | 40,000 | 45.95 |
| 2008 P with Common Eider Loon Dollar | 40,000 | 45.50 |
| 2009 P with Blue Heron Loon Dollar [54.95] | 40,000 | Sold out |
| 2010 P with Northern Harrier Loon Dollar [54.95] | 35,000 | Sold out |
| 2010 Special Edition Set with Young Wildlife - Lynx [1 available; outer sleeve is somewhat worn] | 15,000 | 59.95 |
| 2011 with Great Gray Owl Loon Dollar [2 available, both without boxes, both with damaged certificates--ask for $10 off in comments box] | 35,000 | 49.95 |
| 2011 Special Edition Set with Young Wildlife - Elk [59.95] | 15,000 | Sold out |
| 2012 25th Anniversary of the Loonie [1 available without box, with damaged certificate; ask for $10 off in the comments box] | 35,000 | 49.95 |
| 2012 Special Edition Set with Young Wildlife - Wolf Cubs [49.95] | 15,000 | Sold out |
| 2013 with Blue-Winged Teal Loon $1 [1 available] | 50,000 | 49.95 |
| 2013 Special Edition Set with Young Wildlife - Black Bear Cubs [49.95] | 17,500 | Sold out |
| 2013 Specimen Set with Silver $1 - 100th Anniversary of the Canadian Arctic Expedition | 20,000 | 99.95 |
| 2014 Specimen Set with Ferruginous Hawk Loon $1 [49.95] | 50,000 | Sold out |
| 2014 Special Edition $2 Set with Young Wildlife - Baby Rabbits | 17,500 | 49.95 |
| 2015 Specimen Set with Blue Jay Loon $1 | 30,000 | 49.95 |
| 2015 Special Edition $2 Set with Young Wildlife - Baby Raccoons | 15,000 | 49.95 |
| 2016 Specimen Set with Tundra Swan Loon $1 [49.95] | 30,000 | Sold out |
| 2017 Specimen Set with Snow Goose Loon $1 | 30,000 | 51.95 |