Lasqueti Mint Gold and Silver Medallions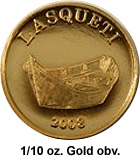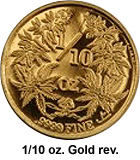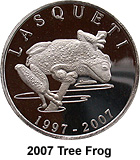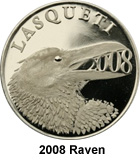 All medallions are hand-made. Specifications vary by issue and mintages are extremely low.

New for 2008 is a 1 oz. .9999 gold coin produced for Mammoth Tusk Gold Inc. of the Yukon. The obverse sports a sourdough gold panner while the reverse features an artistic rendering of a wooly mammoth. The proof coin is encapsulated and packaged in handmade wooden box with a mammoth tusk cabochin inlaid in the top and are accompanied by a certificate of authenticity.

Gold coin prices here are based on gold at U$1,000.00/oz. and silver at U$20.50/oz. For current buying and selling prices, ordering and selling instructions, a Frequently Asked Question List, and useful forms, please visit our comprehensive Bullion Coins and Bars website, updated M-F (www.bullioncoinsandbars.com).

Please note that this catalogue is used as both an ordering tool and the only online reference list of its kind. We do not always have every item available in every grade, nor do we have every older coin or set. However, we tend to have many items available in many grades. Rare or hard to obtain items may not be available. Anything not currently available can be located for you if you request by sending an e-mail, fax, or by calling.


| | | | | |
| --- | --- | --- | --- | --- |
| Description | Finish | Mintage | Diameter | Price |
| 2005 1/2 oz. Silver Cascadia (Venus de Cosmos) | BU | Unlimited: 1 available | | 115.00 |
| 2008 1/10th oz. .9999 Gold Medical Marijuana Commemorative | BU | open | 16.6 mm | 220.00 |
| 2008 1/2 oz. .999 Silver Raven | Proof | 101 | 29.8 mm | 85.00 |
| 2008 1/2 oz. .999 Silver Raven | BU | open | 29.8 mm | 40.00 |
| 2008 1 oz. .9999 Gold Yukon Mammoth [2000] | Proof | 250: 1 available | 29.9 mm | Sold out |
| 2009 1/2 oz. .999 Silver Sand Dollar | BU | Unlimited: 4 available | | 120.00 |
| 2011 1/2 Oz .999 Dragonfly | Proof | 75: 1 available | 29.9mm | 265.00 |