J&M's Online Appraisal Service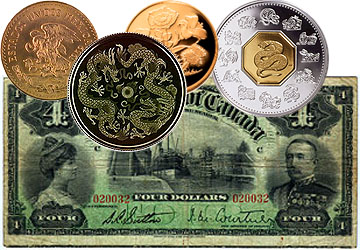 "How Do I Use this Service?"

You request this service by clicking on the link below. If you have more than one item, please indicate so when completing the transaction. After you have paid, please send an e-mail to coins@jandm.com with as complete a description as possible. Be sure to include any markings like: year, country (of issue), denomination (face value), any mint marks, images on the obverse (heads) or reverse (tails), and so forth. Please also attach a JPEG scan of each side, in colour, at 200% size with the highest resolution possible.

Please note, the grade we assign will be as accurate as possible without us physically examining the piece. Our grade should be verified with an actual examination if you need a 100% accurate grading. If you have any questions about how this works, please don't hesitate to contact us at coins@jandm.com.

ATTENTION PLEASE: Our website catalogue is not programmed to handle products that do not physically exist or need shipping. As a result, you may find "shipping charges" added to your order when you place it. If so, please do not be concerned. We will manually remove the charges from the order BEFORE your card is charged. Sorry for the inconvenience.


| | |
| --- | --- |
| Description | Price |
| J&M's Online Appraisal Service Fee | 8.00 |