| | |
| --- | --- |
| Products | |
Eurocoin Holders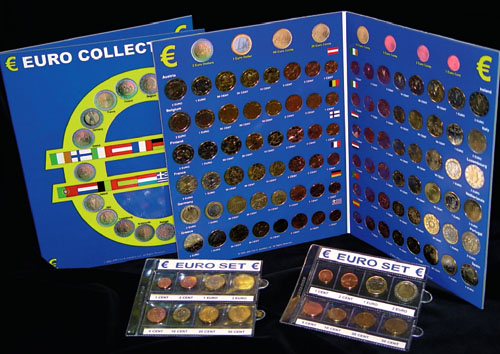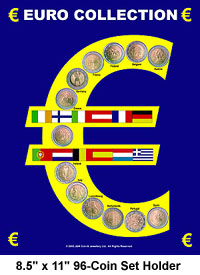 J&M has designed two special holders to help you display your new Euro coins -- a clear plastic holder that can be used for any 8-coin nation set and a deluxe 8.5" x 11" colour presentation folder that houses all 12 countries (96 coins). The Country Holder is made of clear vinyl and allows both sides of the coins to be seen. The Deluxe Country Holder features an attractive cover (same image of all the 2Euro Dollars on both the front and back) while opening to two full colour 8.5" x 11" panels where each country's coins sit in recessed holes in horizontal rows. The reverese art for each Euro coin is shown along the top and each nation's flag is printed by the spaces for that country's coins.

Both of these Euro holder designs were custom created by J&M's Joseph Iorio and are available exclusively from J&M. Dealer inquiries are always welcome.

These prices are for EMPTY holders. See the "Eurocoin Set" listing in this section of the catalogue for actual Eurocoin prices.

Please note that this catalogue is used as both an ordering tool and the only online reference list of its kind. We do not always have every item available in every grade, nor do we have every older coin or set. However, we tend to have many items available in many grades. Rare or hard to obtain items may not be available. Anything not currently available can be located for you if you request by sending an e-mail, fax, or by calling.


| | |
| --- | --- |
| Description | Price |
| J&M Eurocoin 8-coin Country Holder | 1.45 |
| J&M Eurocoin Deluxe 96-coin Cardboard Holder | 9.95 |