| | |
| --- | --- |
| Products | |
| | |
| --- | --- |
| | Coin Collector Cards |
| | Uncirculated (Proof-Like) Sets, 1954-date |
| | Proof (Double Dollar) Sets, 1971-date |
| | Custom (Double Cent) Sets 1971-80 and Specimen Sets 1981-date |
| | Oh! Canada! and Baby Gift Sets |
| | Wedding, Graduation, Birthday, Holiday, Hockey, Quebec Carnival, Congratulations and Calendar Gift Sets |
| | Proof, Hologram, Colourized, Test Maple Leaf Coins and Sets, Lunar Zodiac and Other Fractional Sets |
| | Canadian Wildlife Platinum and Endangered Wildlife Silver Sets |
| | Medallions |
| | Queen Elizabeth II Diamond Jubilee Gold and Silver 3-Coin Sets |
| | 1-Cent Coins and Sets |
| | 3-Cent Coins and Sets |
| | 5-Cent Coins and Sets |
| | 10-Cent Coins and Sets |
| | 25-Cent Coins and Sets |
| | 50-Cent Coins and Sets |
| | $1 Coins, Silver |
| | $1 Coins, Nickel |
| | $1 Coins and Sets, Loon and Louis |
| | $2 Coins and Sets |
| | $3 Coins and Sets |
| | $4 Coins and Sets |
| | $5 Coins and Sets |
| | $8 Coins and Sets |
| | $10 Coins and Sets |
| | $15 Coins and Sets |
| | $20 Coins and Sets |
| | $25 Coins and Sets |
| | $30 Coins and Sets |
| | $50 Coins and Sets |
| | $75 Coins and Sets |
| | $100 Coins and Sets |
| | $125 Coins and Sets |
| | $150 Coins and Sets |
| | $175 Coins and Sets |
| | $200 Coins and Sets |
| | $250 Coins and Sets |
| | $300 Coins and Sets |
| | $350 Coins and Sets |
| | $500 Coins and Sets |
| | $1000 Coins and Sets |
| | $2500 Coins and Sets |

Proof, Hologram, Colourized, Test Maple Leaf Coins and Sets, Lunar Zodiac and Other Fractional Sets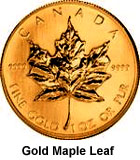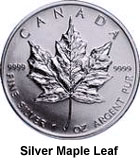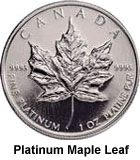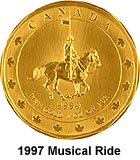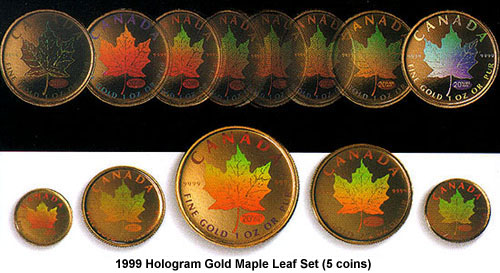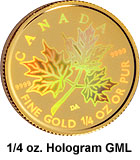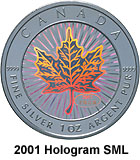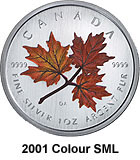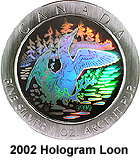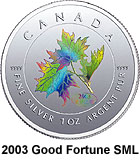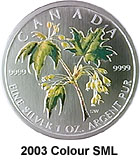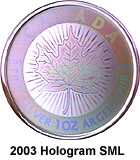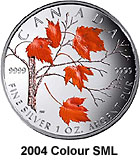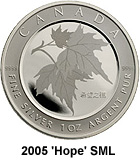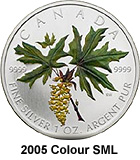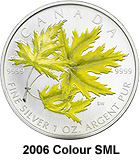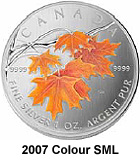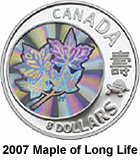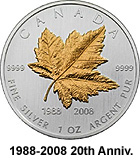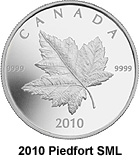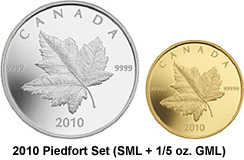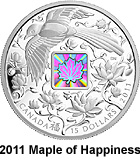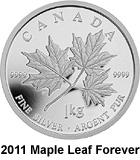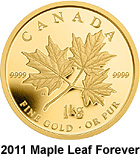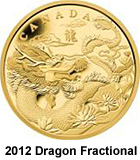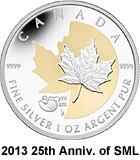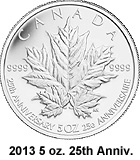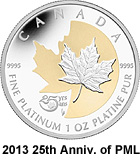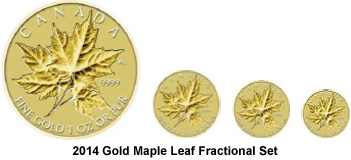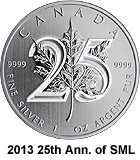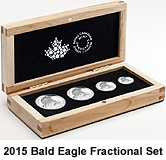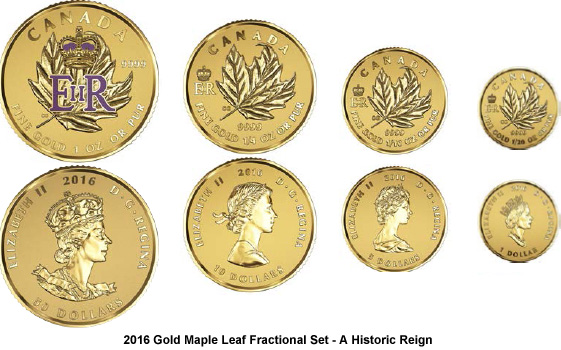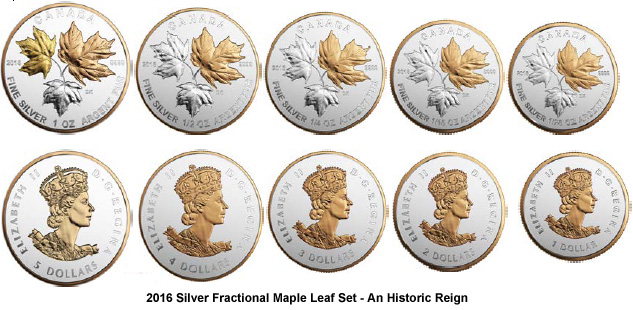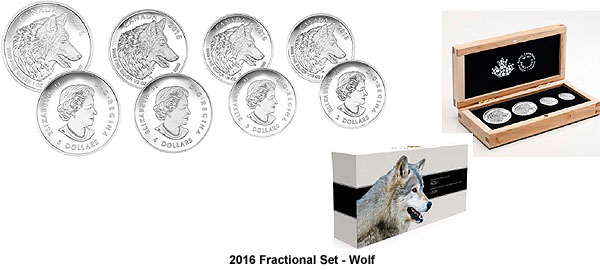 This page features special Maple Leaf products such as proof versions, enameled (colourized), holograms, and so forth. Please see the gold, silver and platinum sections of this website for listings on the regular bullion and privy mark versions of the Maple Leaf coins.

If you place an order for any of the bullion items on this page the prices will be adjusted to current market equivalent. Please see J&M's daily rates for these gold coins on our Priority page, updated M-F (http://www.bullioncoinsandbars.com).

Please note that this catalogue is used as both an ordering tool and the only online reference list of its kind. We do not always have every item available in every grade, nor do we have every older coin or set. However, we tend to have many items available in many grades. Rare or hard to obtain items may not be available. Anything not currently available can be located for you if you request by sending an e-mail, fax, or by calling.


| | | |
| --- | --- | --- |
| Description | Mintage | Price |
| 1989 1 oz. Proof Silver Maple Leaf | 30,000 | 79.00 |
| 1989 1 oz Proof Gold Maple Leaf | 6,817 | 1,850.00 |
| 1989 1 oz. Proof Set (1 oz Gold, Silver, Platinum) | 5,000 | 3,500.00 |
| 1989 Gold Proof Set (1, 1/2, 1/4, 1/10 oz Gold) | 6,998 | 3,750.00 |
| 1989 Platinum Proof Set (1, 1/2, 1/4, 1/10 oz Platinum) | 2,000 | 3,500.00 |
| 1989 Fractional Proof Set (1/10 Platinum, 1/10 Gold, 1 oz Silver) | 10,000 | 450.00 |
| 1997 RCMP Musical Ride 1 oz Gold Coin [1900] | 12,913 | Sold out |
| 1998 10th Anniversary 10 oz. Silver Maple Leaf | 13,533 | 650.00 |
| 1999 Hologram Gold Maple Leafs (5-coin Set) [3900] | 500 | Sold out |
| 2001 Hologram Gold Maple Leafs (5-Coin Set) [3600.00] | 600 | Sold out |
| 2001 Hologram 1/4 oz. Gold Maple Leaf Coin | 15,000 | 490.00 |
| 2001 (Auspicious Maple) Hologram Silver 1 oz. Maple Leaf | 30,000 | 75.00 |
| 2001 (Autumn) Colourized Silver 1 oz. Maple Leaf [Note: issued by the Royal Canadian Mnt in boxes but w/o COA's; 1 available] | 50,000 | 59.95 |
| 2002 (Spring) Colourized Silver 1 oz. Maple Leaf [1 available] | 30,000 | 55.00 |
| 2002 Hologram Platinum Maple Leafs (5-coin Set) [4,250.00] | 500 | Sold Out |
| 2002 Hologram 1 oz. Silver Loon (.9999 pure) | 30,000 | 45.00 |
| 2003 (Good Fortune) Hologram 1 oz. Silver Maple Leaf | 30,000 | 45.00 |
| 2003 (Summer) Colourized 1 oz. Silver Maple Leaf | 29,731 | 55.00 |
| 2003 Hologram Silver Maple Leafs (5-coin Set) [limited quantity] | 28,947 | 135.00 |
| 2004 RCM Privy Mark Silver Maple Leafs (5-coin Set) [125.00] | 25,000 | Sold out |
| 1979-2004 25th Anniversary Gold Maple Leaf (6-coin Set) | 801 | 3,950.00 |
| 2004 (Winter) Colourized 1 oz. Silver Maple Leaf [2 available--1 w/ sleeve, 1 w/o sleeve] | 27,000 | 89.95 |
| 2005 (Hope) 1 oz. Silver Maple Leaf [Extremely limited quantity available] | 19,888 | 59.95 |
| 2005 (Big Leaf Maple) Colourized 1 oz. Silver Maple Leaf | 27,000 | 69.95 |
| 2006 (Silver Maple) Colourized 1 oz. Silver Maple Leaf [2 Available] | 20,000 | 129.95 |
| 2007 (Sugar Maple in Orange) Colourized 1 oz. Silver Maple Leaf [1 available] | 20,000 | 119.95 |
| 2001-2007 $5 Colourized Silver Maple Leaf Complete Collection of Seven Coins | | 599.95 |
| 2007 $8 Maple of Long Life Chinese Hologram Coin | 15,000 | 59.95 |
| 2007 $200 1 oz. .99999 Gold Test Maple Leaf | 500 | 2,750.00 |
| 1988-2008 20th Anniversary Selectively Gold Plated 1 oz. Silver Maple Leaf [104.95] | 10,000 | Sold Out |
| 2010 Piedfort Silver Maple Leaf [1 available] | 6,000 | 99.95 |
| 2010 Piedfort Set (1 oz. Silver Maple Leaf and 1/5 oz. Gold Maple Leaf) | 3,000 | 600.00 |
| 2011 $15 .9999 Silver with Hologram Maple of Happiness coin [98.88] | 8,888 | Sold Out |
| 2011 $250 Silver Kilo Maple Leaf Forever | 999 | 2,095.00 |
| 2011 $2500 Gold Kilo Maple Leaf Forever | 30 | |
| 2011 Fractional 5-Coin Gold Maple Leaf Set (1, 1/4, 1/10, 1/20, 1/25 oz. coins) | 750 | 3,500.00 |
| 2012 Year of the Dragon Fractional 4-Coin Gold 4-Coin Set (1, 1/2, 1/4, 1/10 oz. coins) | 500 | 5,000.00 |
| 2012-Issued 2013-Dated 25th Anniversary of the Silver Maple Leaf Fractional 5-Coin Silver Set (1, 1/2, 1/4, 1/10, 1/20 oz. coins) [199.95] | 9,999 | 199.95 |
| 2013 1 oz. 25th Anniversary of the Silver Maple Leaf coin with Selective Gold Plating | 10,000 | 109.95 |
| 2013 5 oz. $50 25th Anniversary of the Silver Maple Leaf coin [499.95] | 2,500 | Sold Out |
| 2013 1 oz. 25th Anniversary of the Platinum Maple Leaf coin with Selective Gold Plating | 250 | 2,999.95 |
| 2014 Gold Plated Silver Maple Leaf Fractional 5-Coin Set (1, 1/2, 1/4, 1/10, 1/20 oz. coins) | 9,999 | 249.95 |
| 2014 Gold Maple Leaf Fractional 4-Coin Set (1, 1/4, 1/10, 1/20 oz. coins) | 600 | 3,679.95 |
| 2013 Polar Bear Pure Gold and Silver 2-Coin Set (1-1/2 oz silver, 1/4 oz gold coins) | 7,500 | 774.95 |
| 2013 1 oz. 25th Anniversary of the Silver Maple Leaf coin | Not Provided | [Please Call For Current Price] |
| 2015 .9999 Silver Fractional - The Maple Leaf Set [224.95] | 9,999 | Sold out |
| 2015 .9999 Gold Fractional - The Maple Leaf Set | 600 | 3,999.95 |
| 2015 .9999 Silver Bald Eagle 4-Coin Fractional Set | 7,500 | 179.95 |
| 2016 .9999 Gold Fractional Maple Leaf Set - An Historic Reign [1 available] | 600 | 3,999.95 |
| 2016 .9999 Silver Fractional Maple Leaf Set - An Historic Reign [1 available] | 7,500 | 224.95 |
| 2016 .9999 Silver Fractional Set Wolf | 7,500 | 199.95 |